This Week's Menu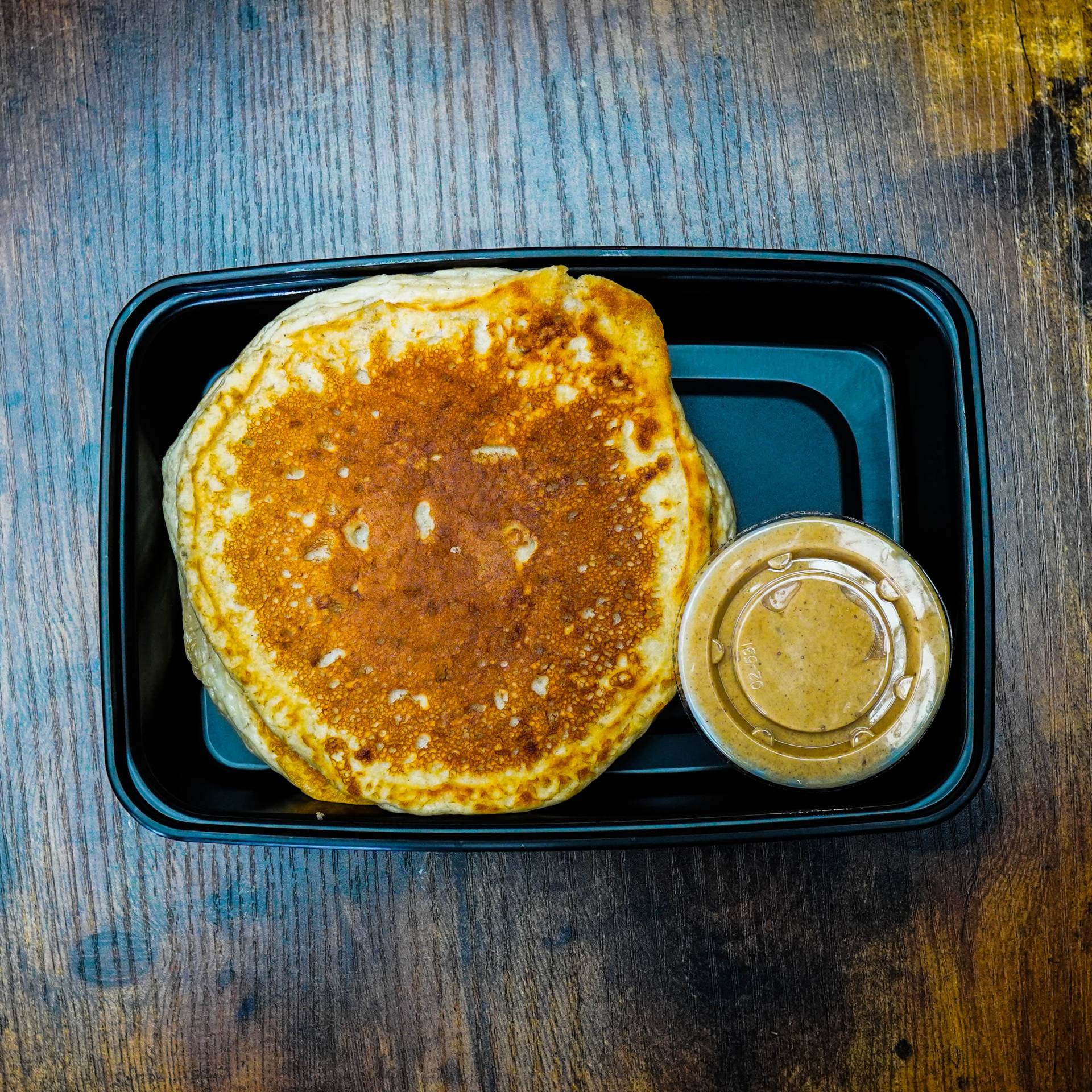 Banana PUMPcakes
Protein packed GLUTEN FREE pancakes made with fresh bananas served with our signature chocolate coconut protein peanut butter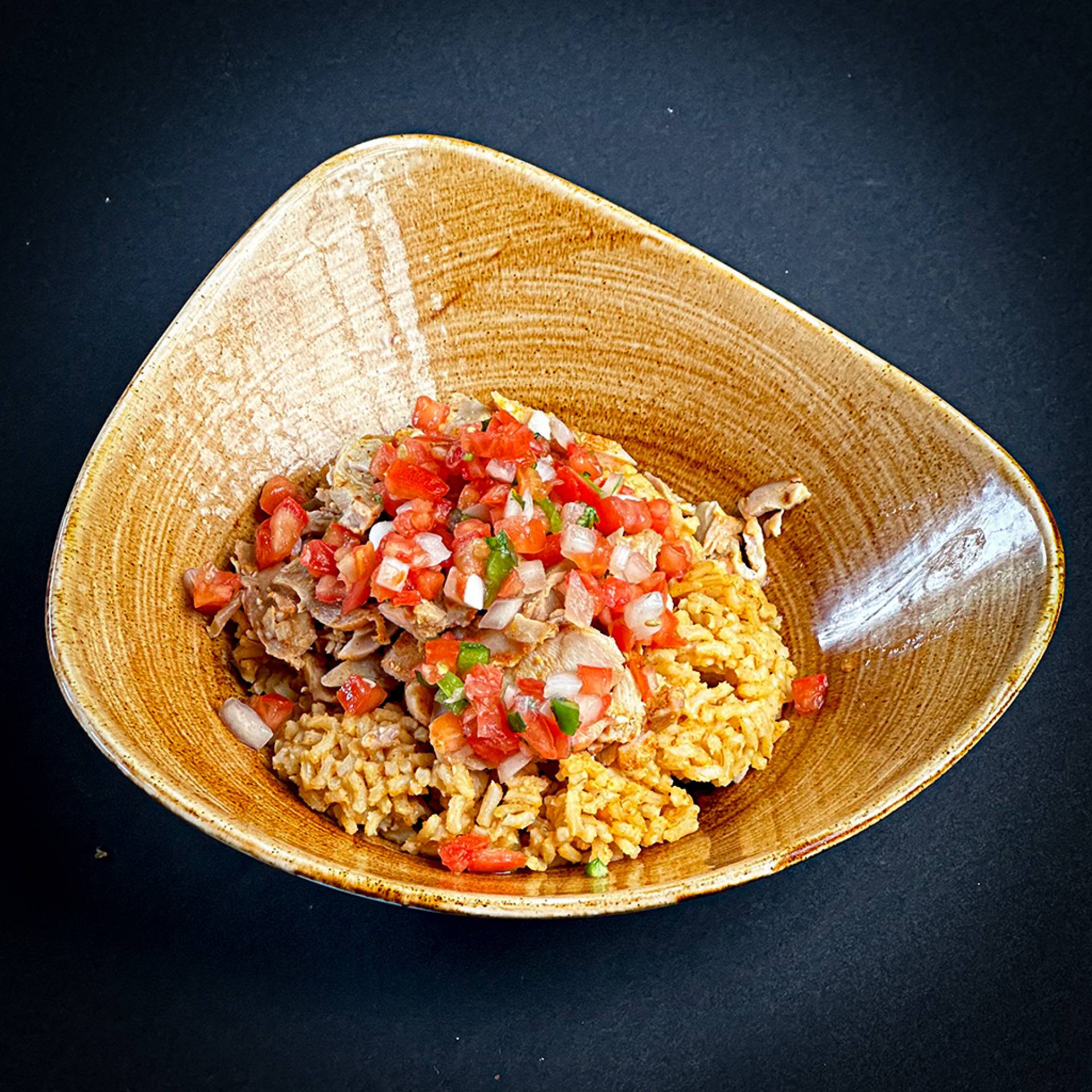 Burrito Bowl with Chicken
Tender slow braised chicken served over brown rice and topped with pinto beans and fresh pico de gallo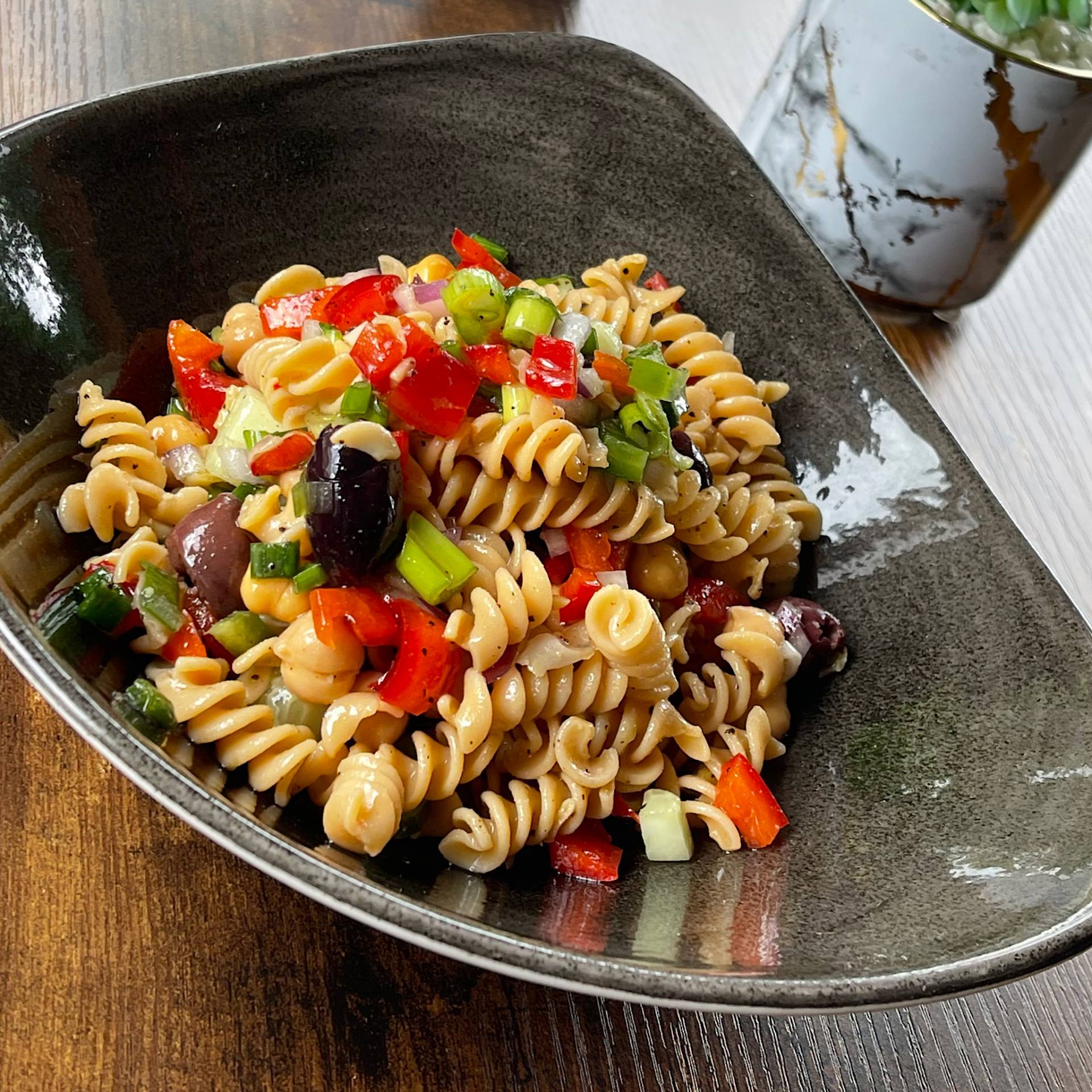 Chick Pea Pasta Salad (PINT)
Gluten free chick pea pasta, olives, tomatoes, peppers, cucumbers, scallions and feta cheese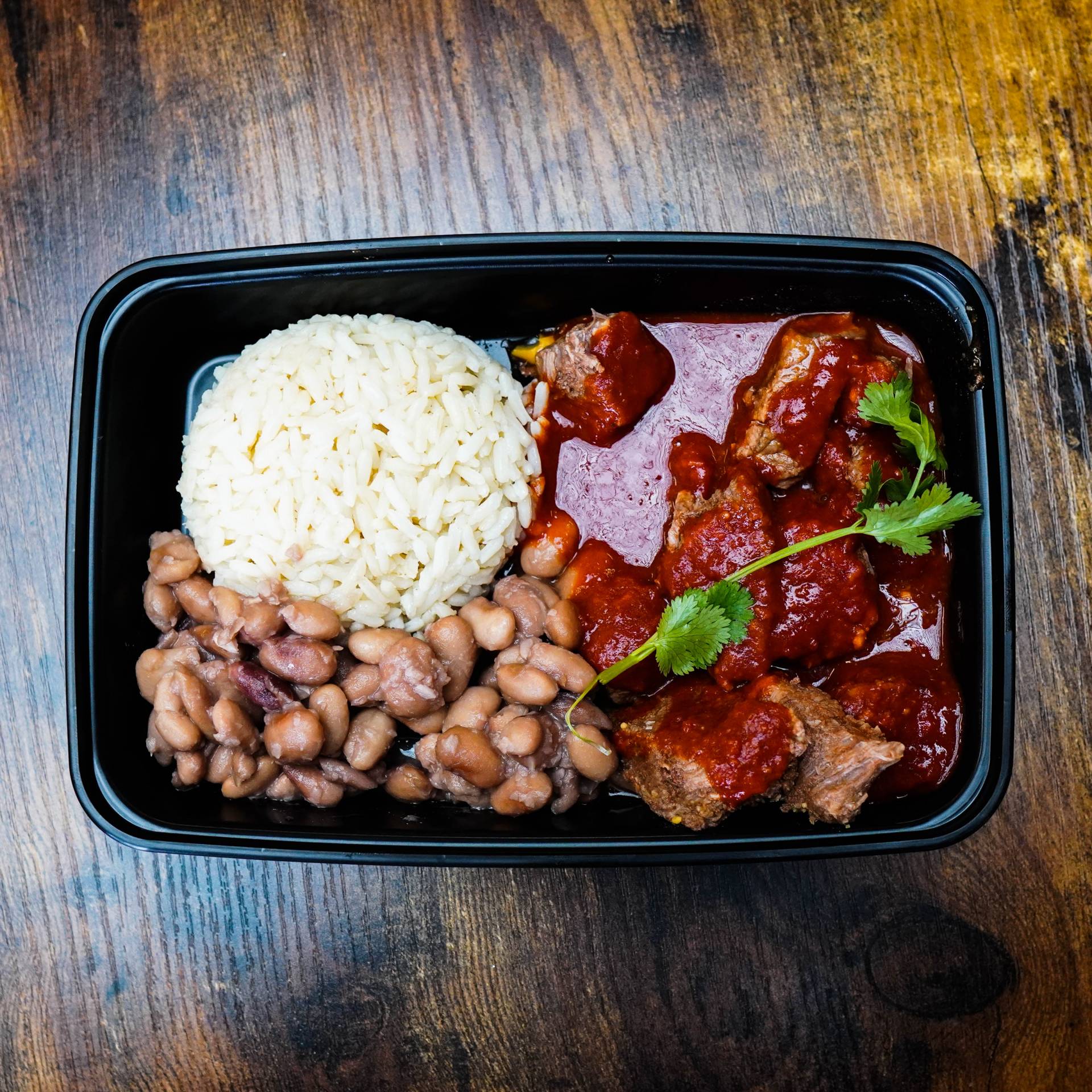 Chile Colorado
Tender beef braised with chiles and garlic, served with rice and pinto beans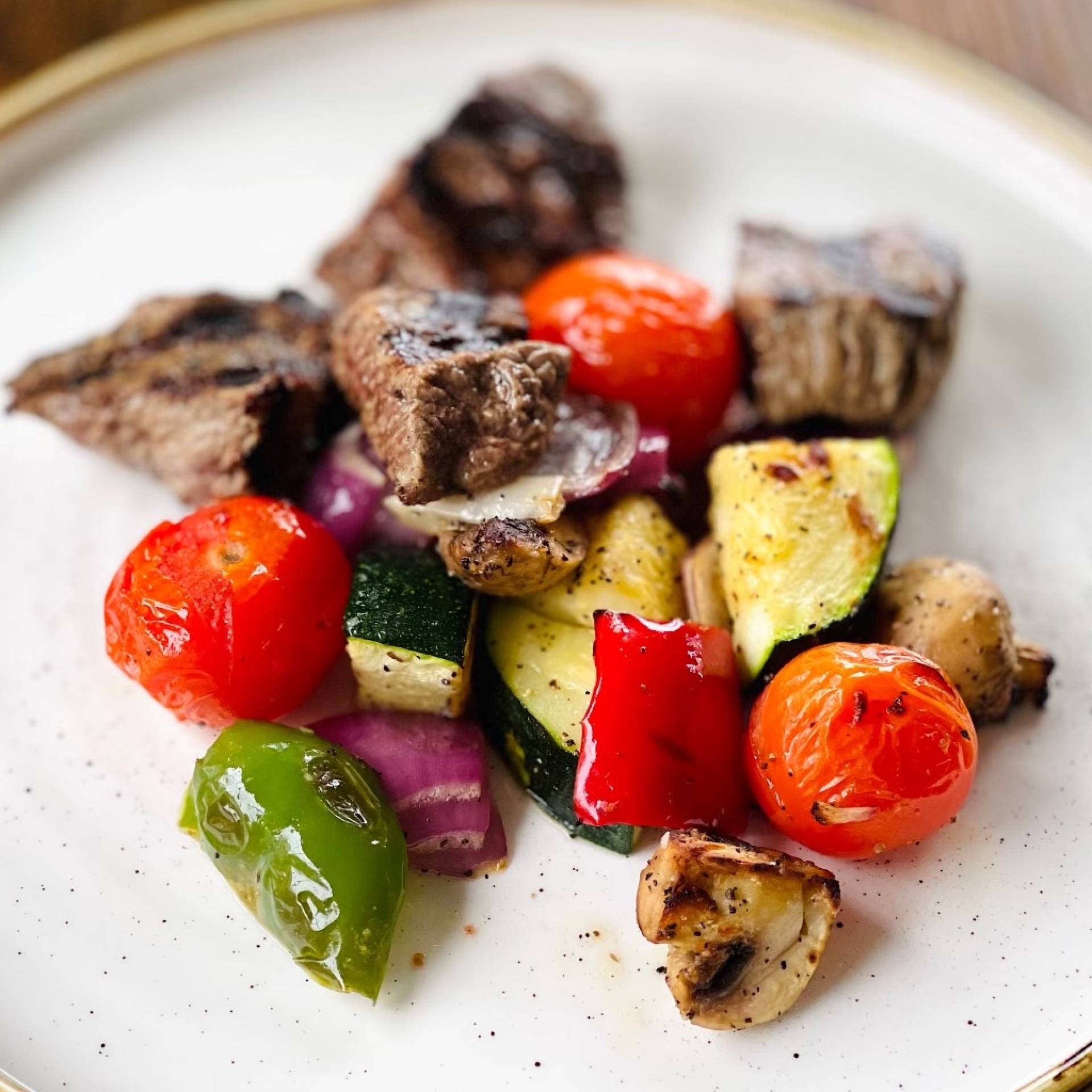 Dads Backyard Steak Tips
Classic Italian dressing marinated lean steak, grilled and served with a grilled vegetable medley of cherry tomatoes, red onions, peppers, mushrooms and zucchini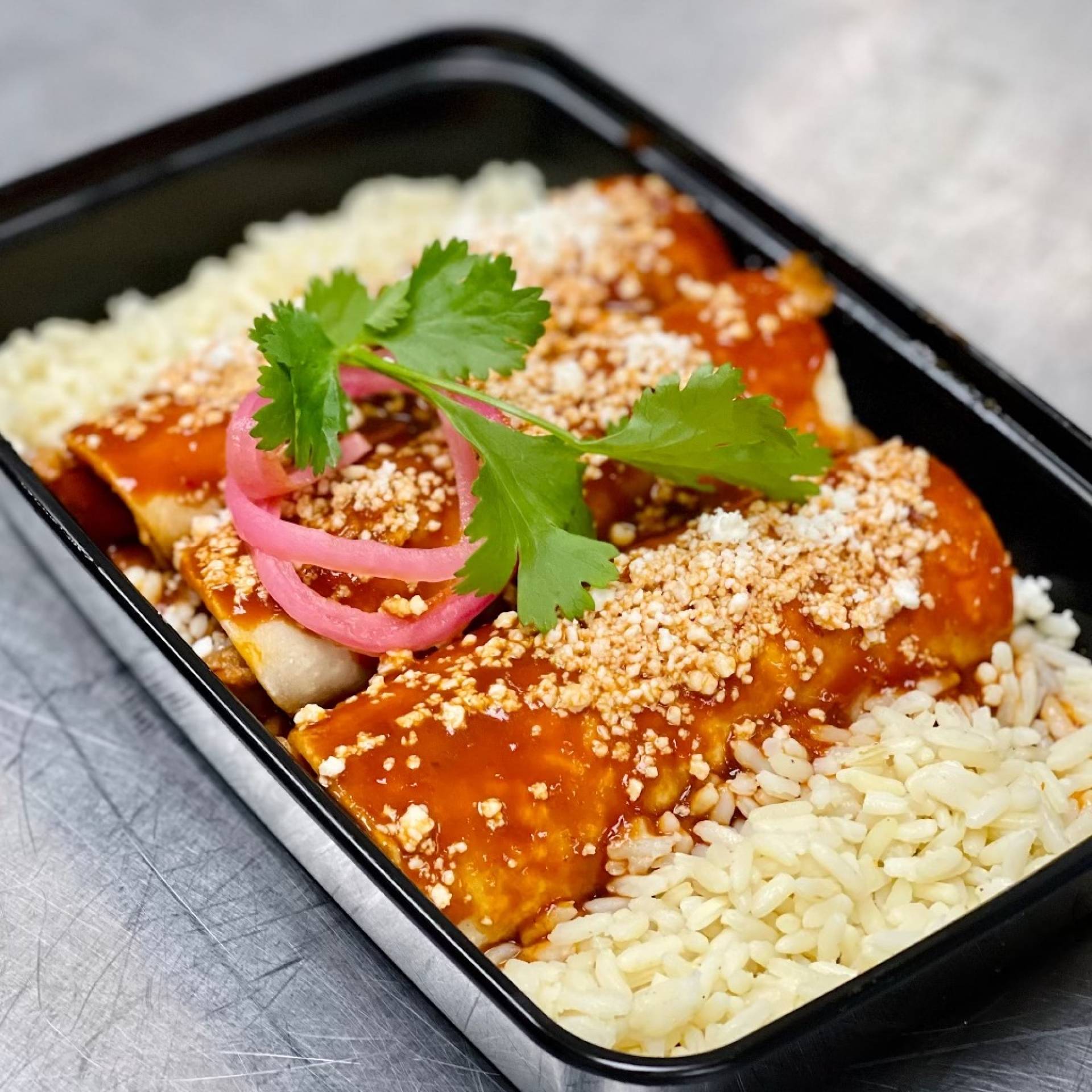 Enchiladas de Pollo
Tender chicken thighs, simmered in salsa roja, rolled in a locally made corn tortilla, topped with queso fresco & served with steamed white rice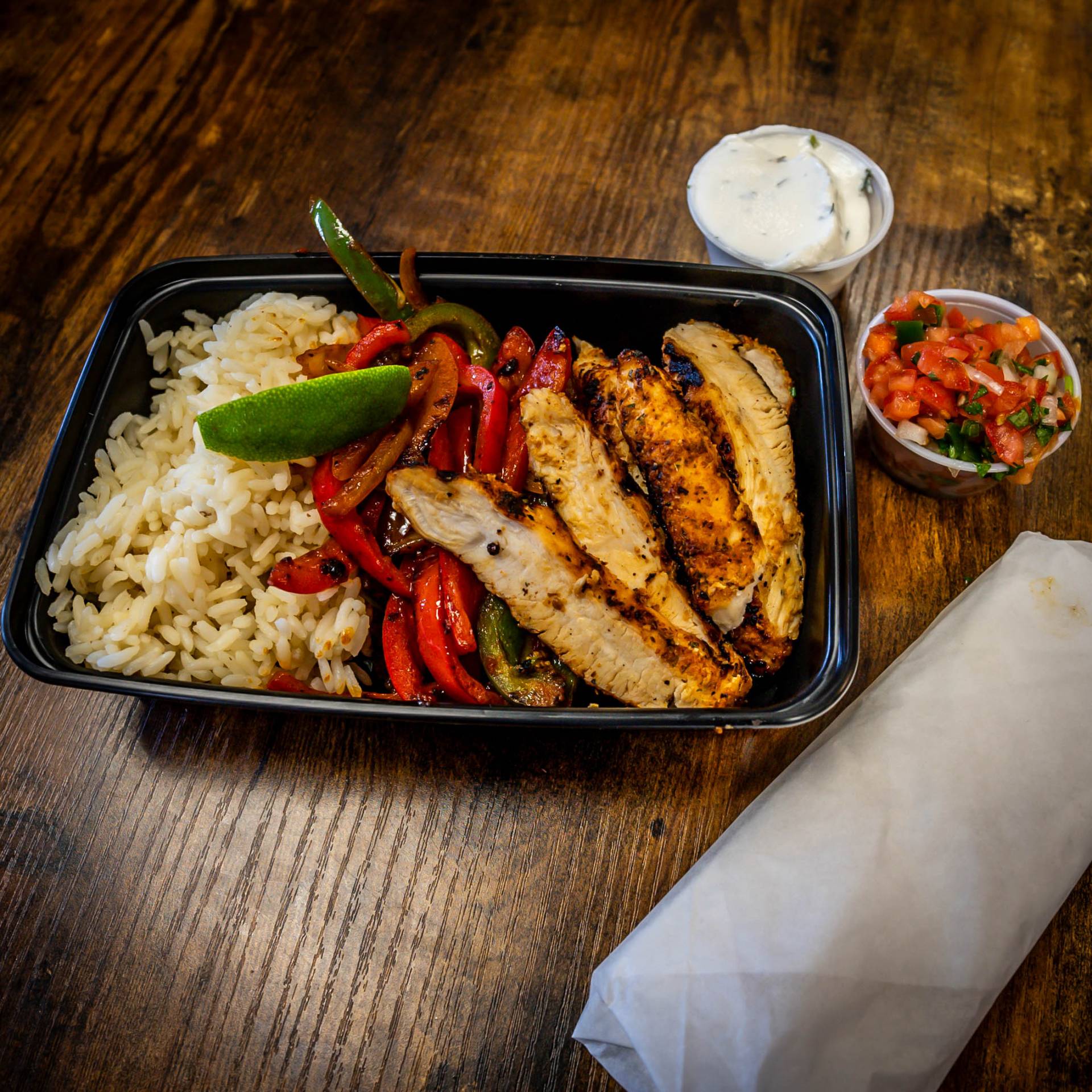 Fajitas with Grilled Chicken
Grilled Chicken with house made Adobo sauce, sautéed onions and peppers, braised pinto beans, pico de gallo and gluten free corn tortillas & white rice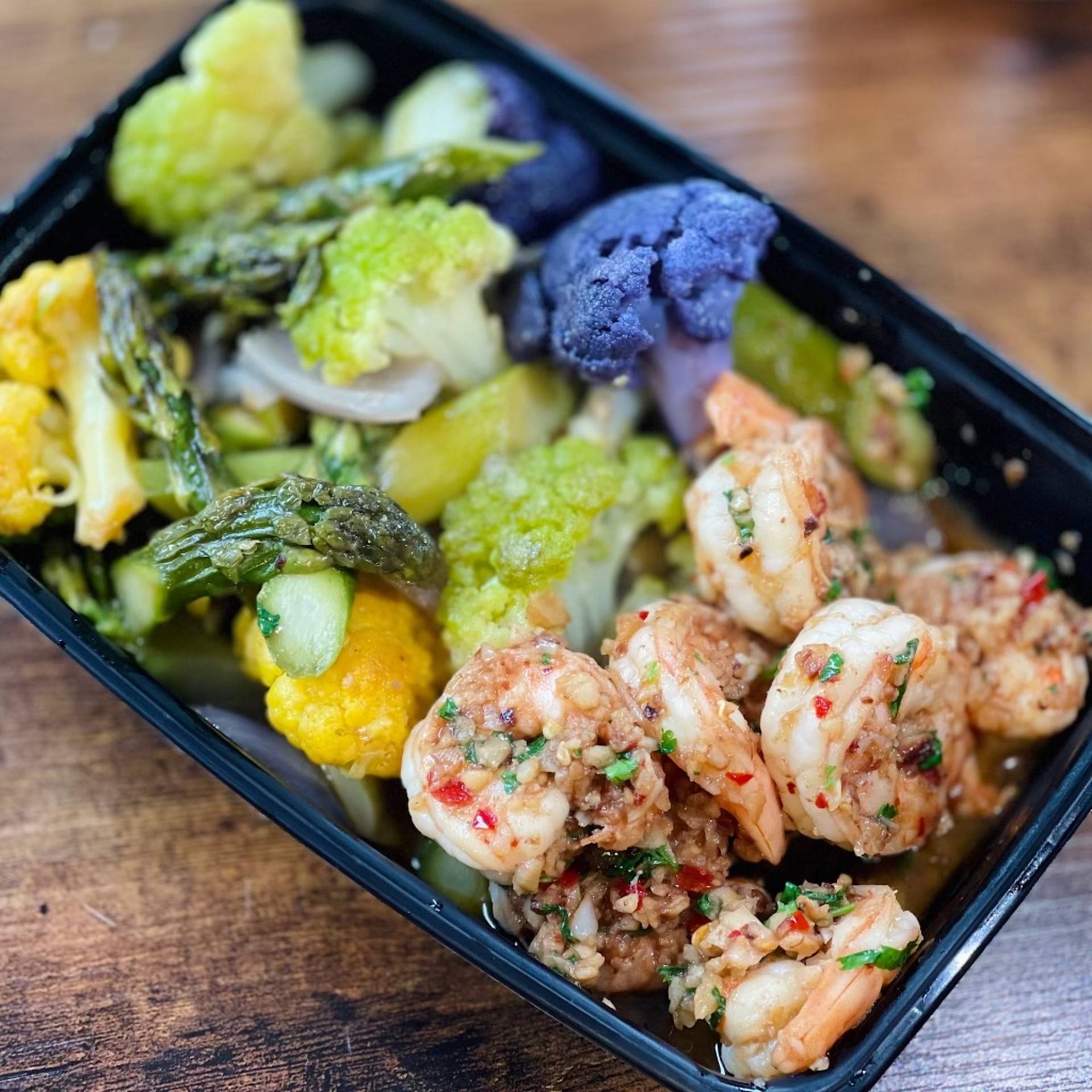 Gambas al ajillo (shrimp with garlic)
fresh shrimp, sauteed with garlic, chile flakes and olive oil, served with jumbo asparagus and lemon roasted cauliflower (KETO FRIENDLY)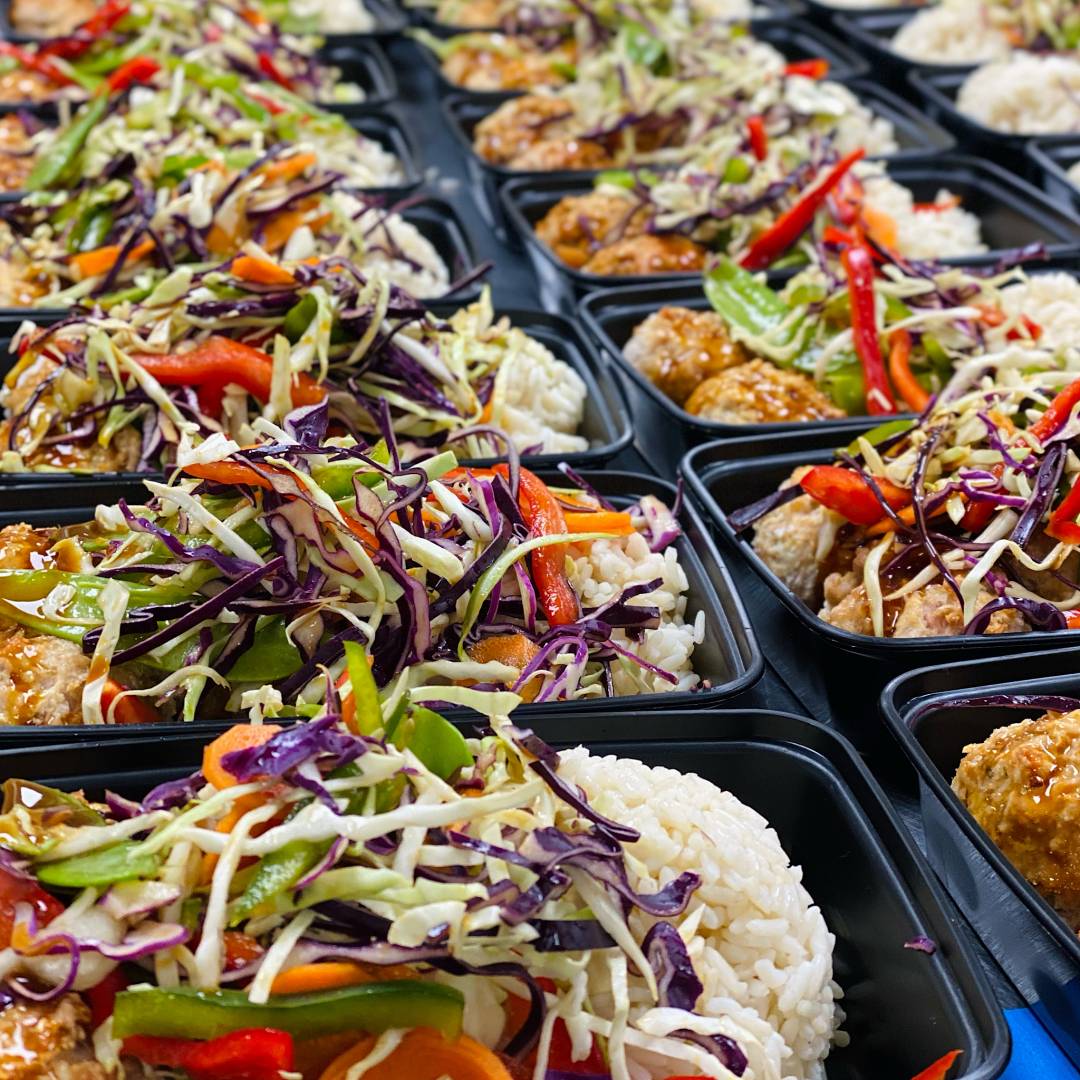 Ginger Chicken Meatballs
Locally ground chicken blended with fresh ginger and scallion (GLUTEN FREE) baked and finished with tamari sauce, served steamed white rice with julienne vegetables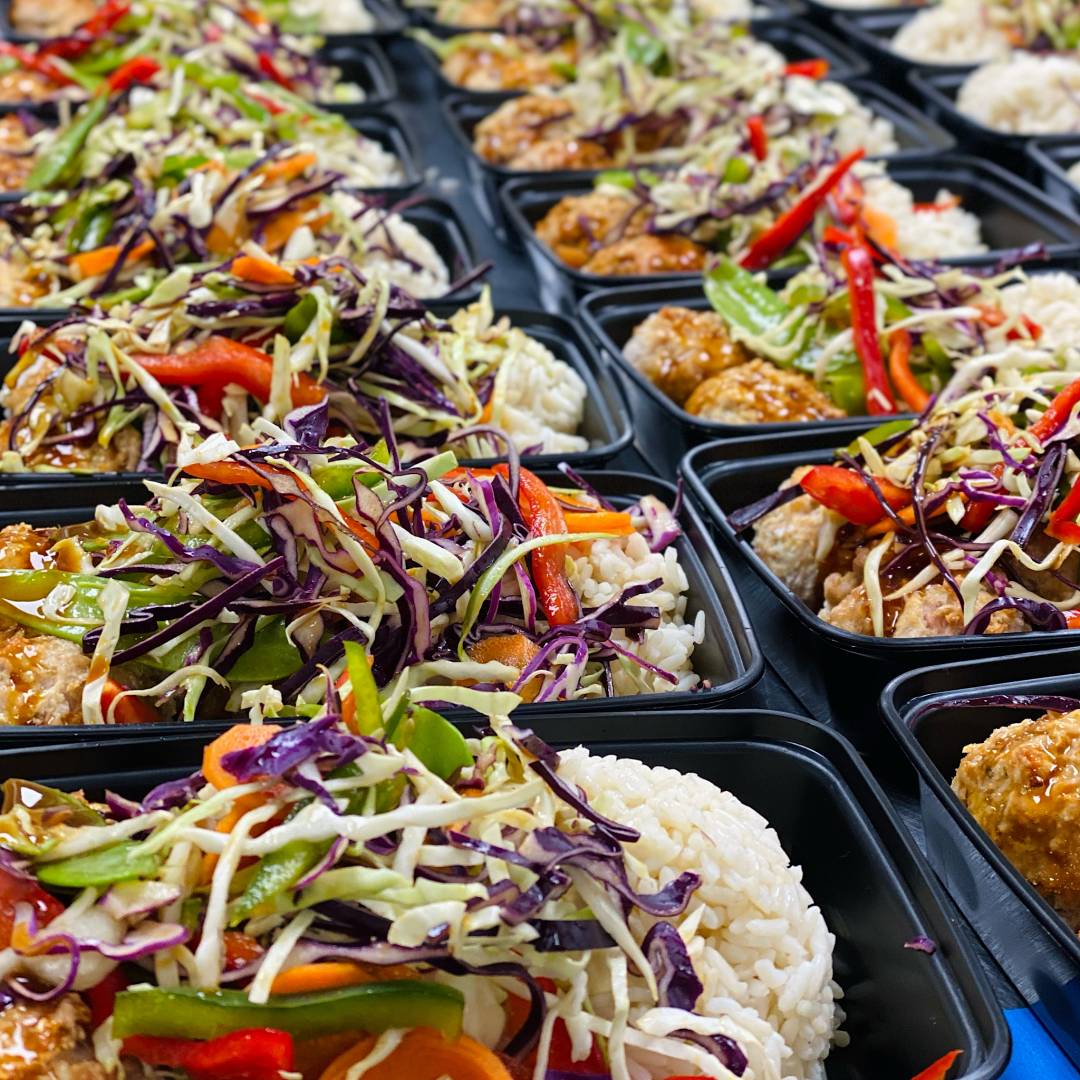 Ginger Chicken Meatballs LOW CARB
A low carb version of our favorite Ginger Chicken Meatballs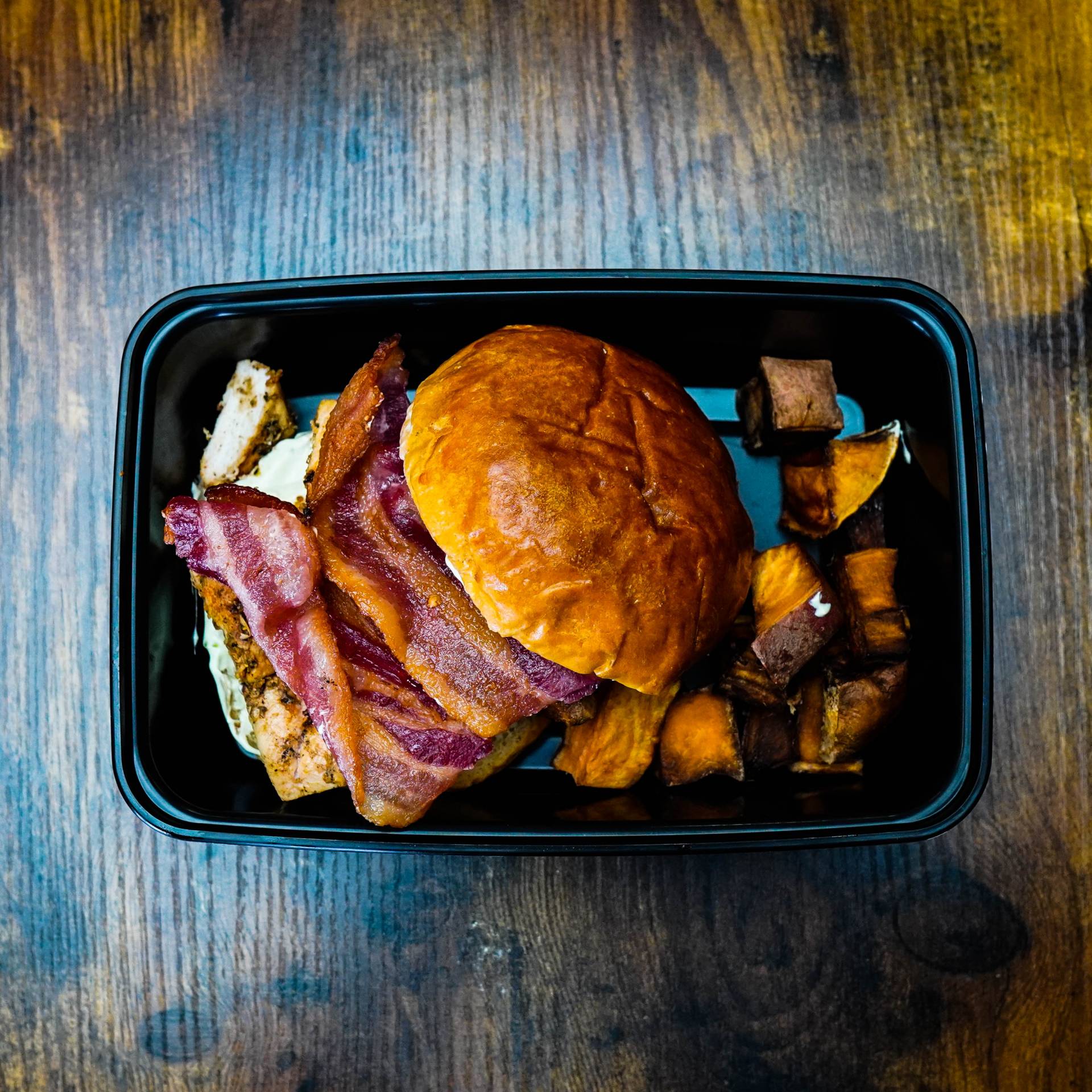 Grilled Chicken | Bacon | Ranch on Brioche
Tender grilled chicken, smoked bacon, avocado ranch yogurt dressing, on a brioche bun, served with baked sweet potato fries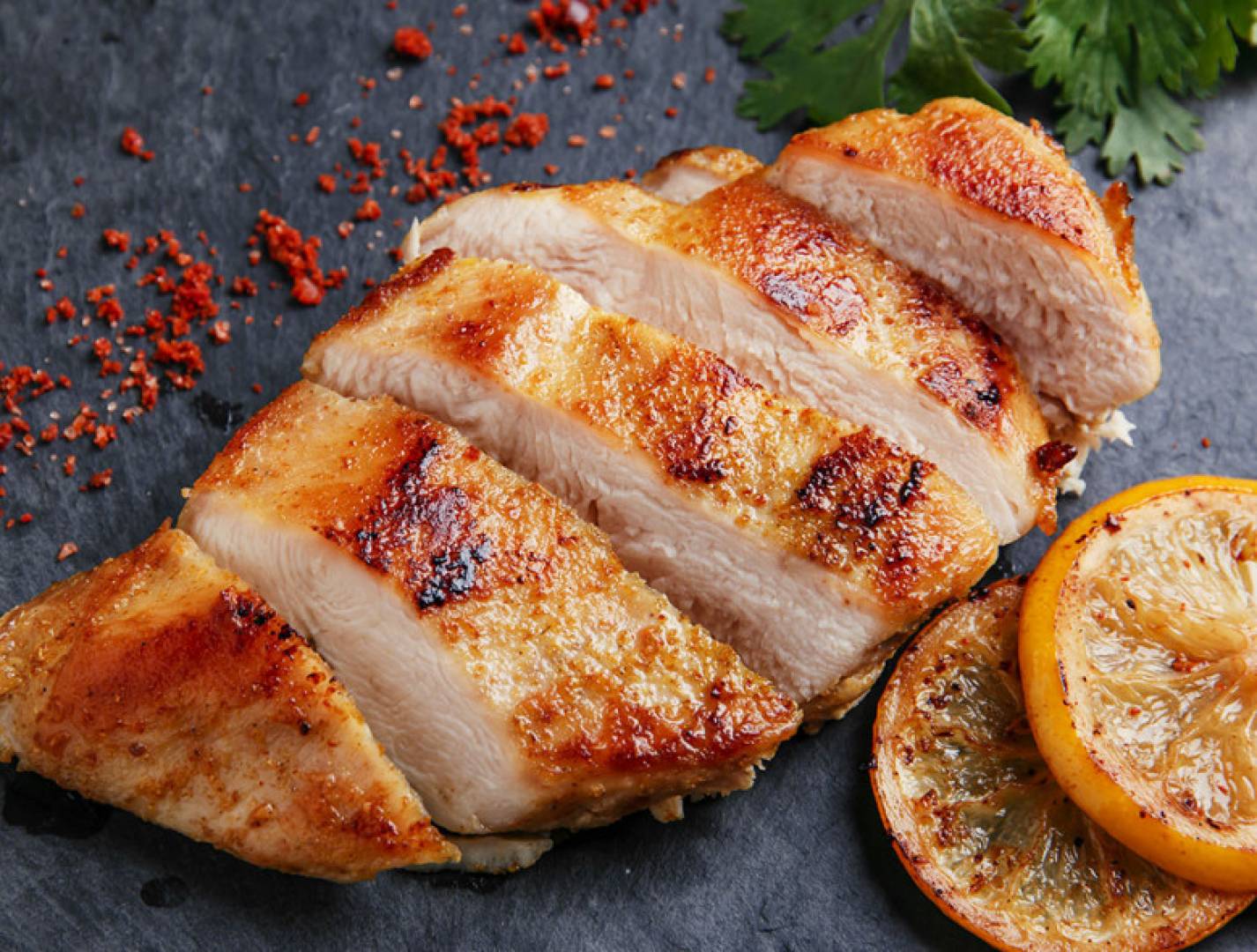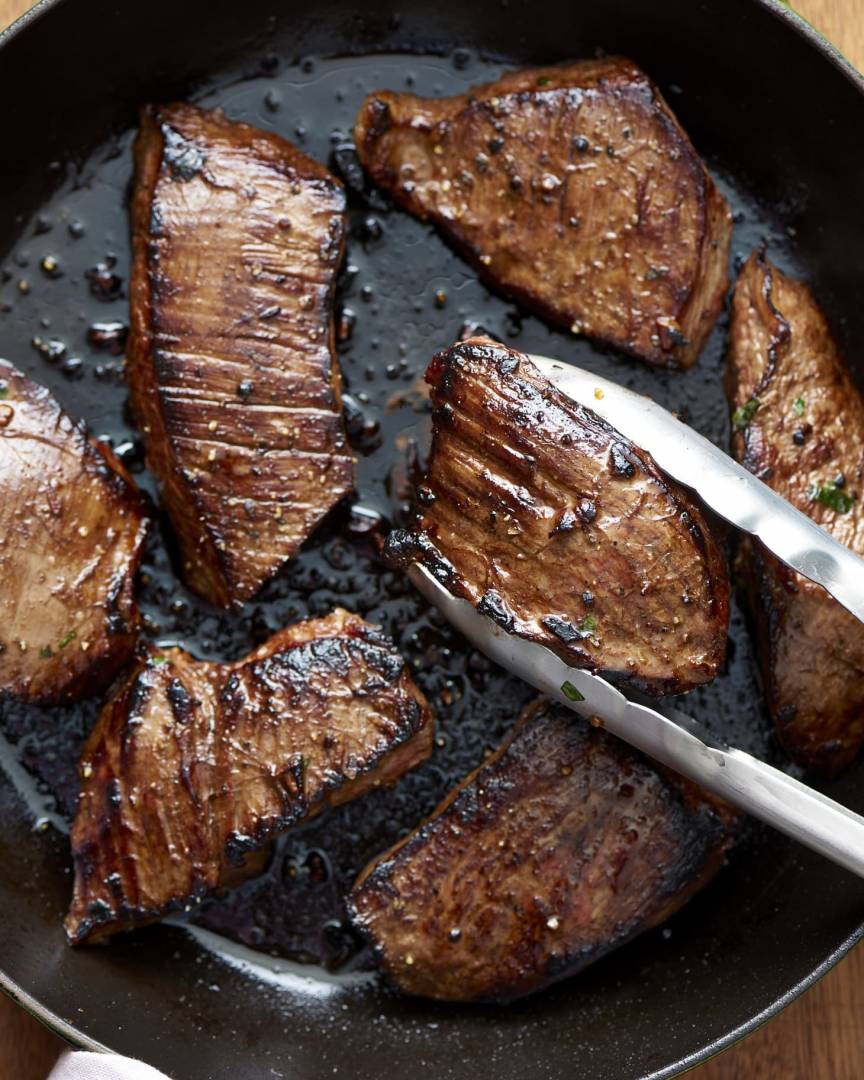 HALF LB of GRILLED STEAK
Half lb of our house marinated grilled steak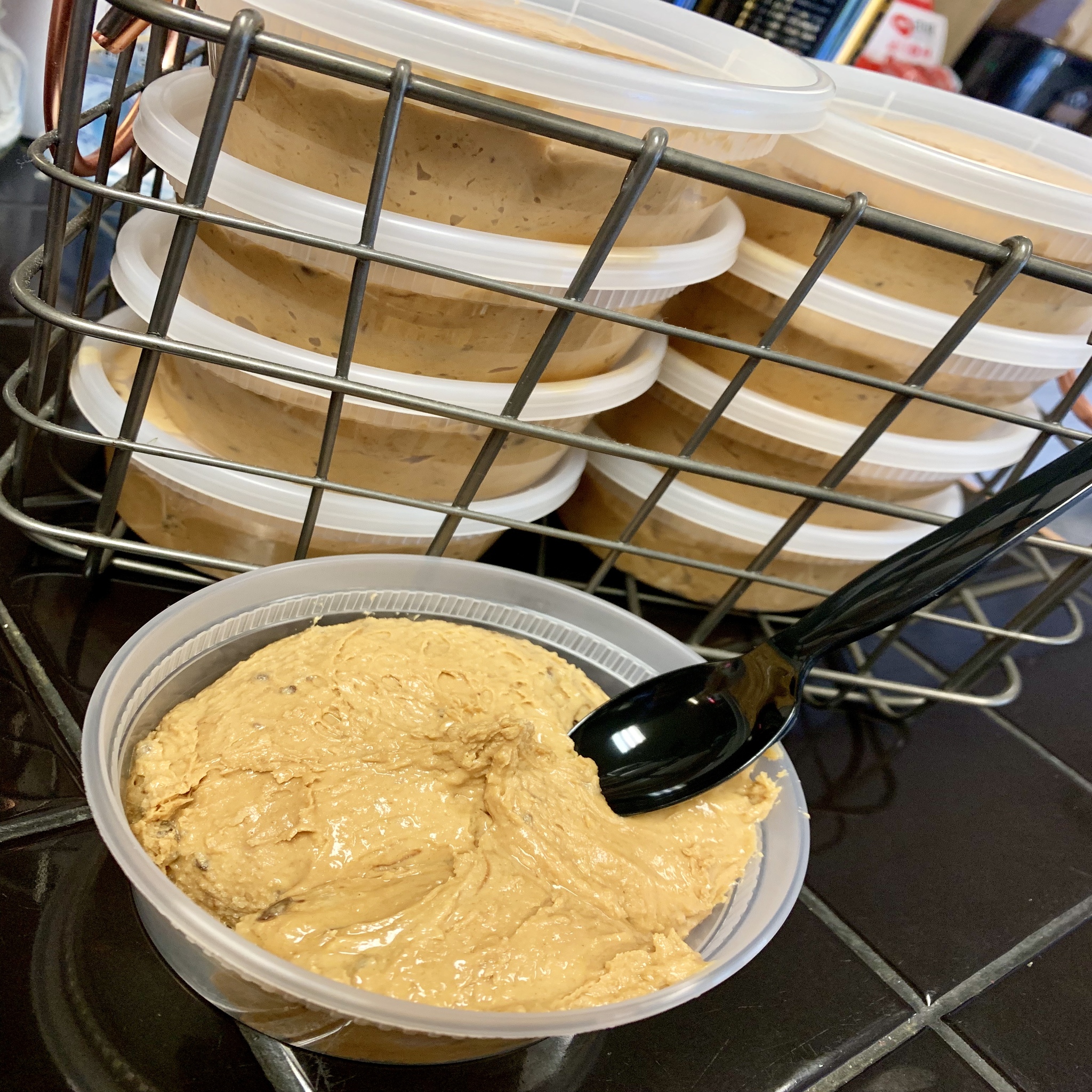 HALF LB of HBM PROTEIN PEANUT BUTTER
Natural peanut butter whipped with dark chocolate, shaved coconut and vanilla whey Serving size: 2 tablespoons 8 servings per container (macros are per serving)
HALF LB of PICO DE GALLO
HBM Signature Pico de Gallo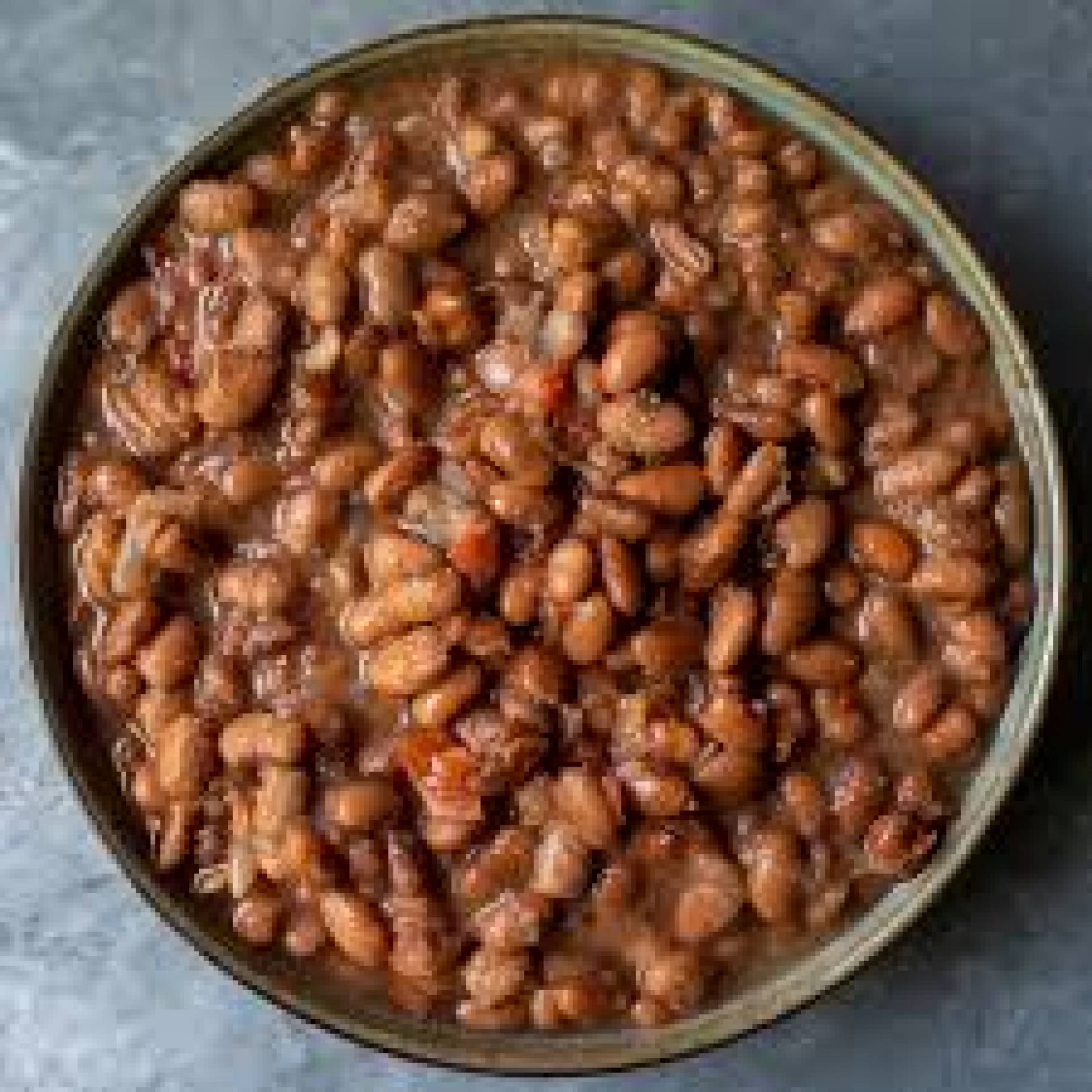 HALF LB of SEASONED PINTO BEANS
Chile lime marinated black beans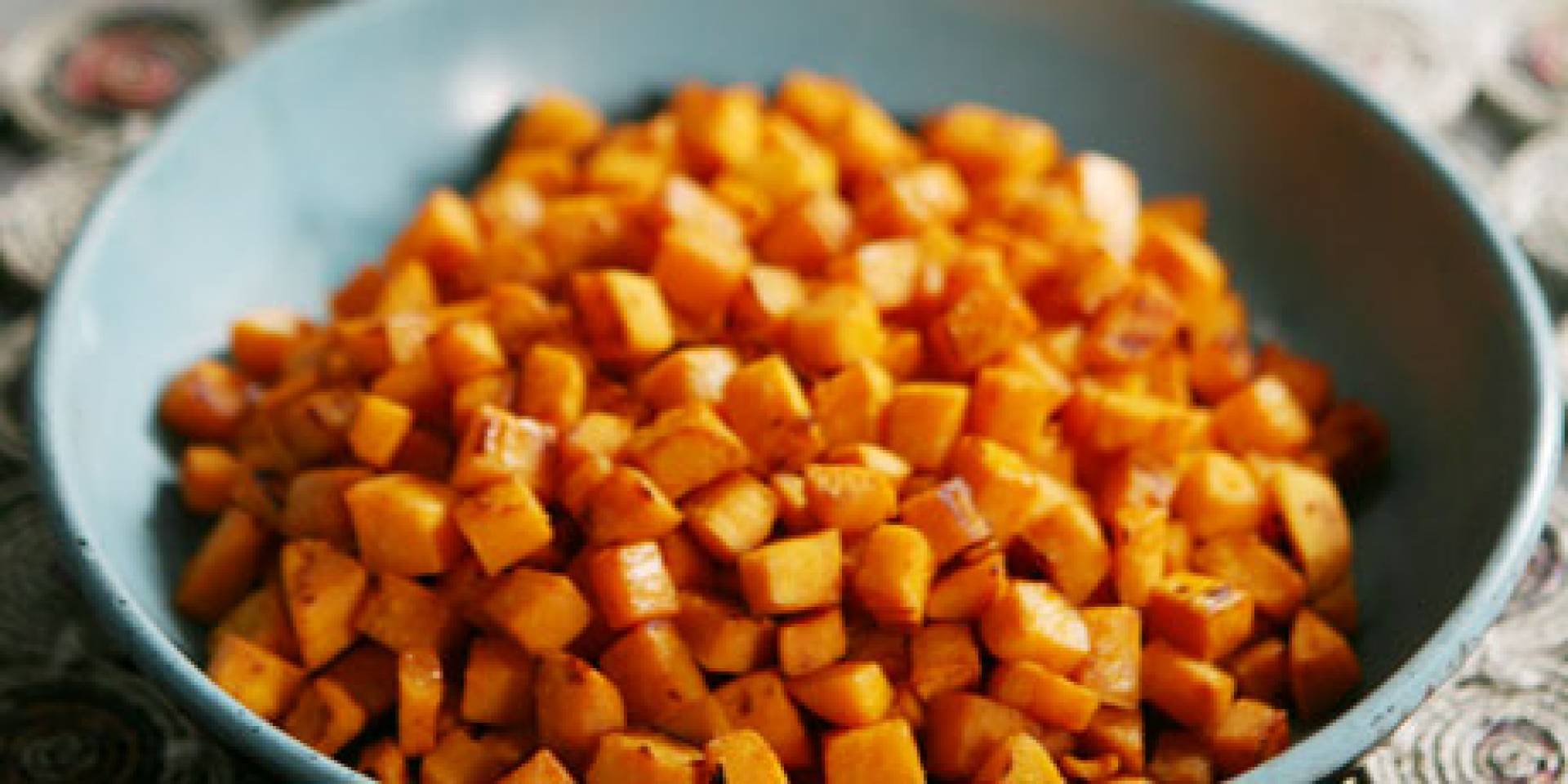 HALF LB SWEET POTATO HOME FRIES
Half lb of our sweet potato homefries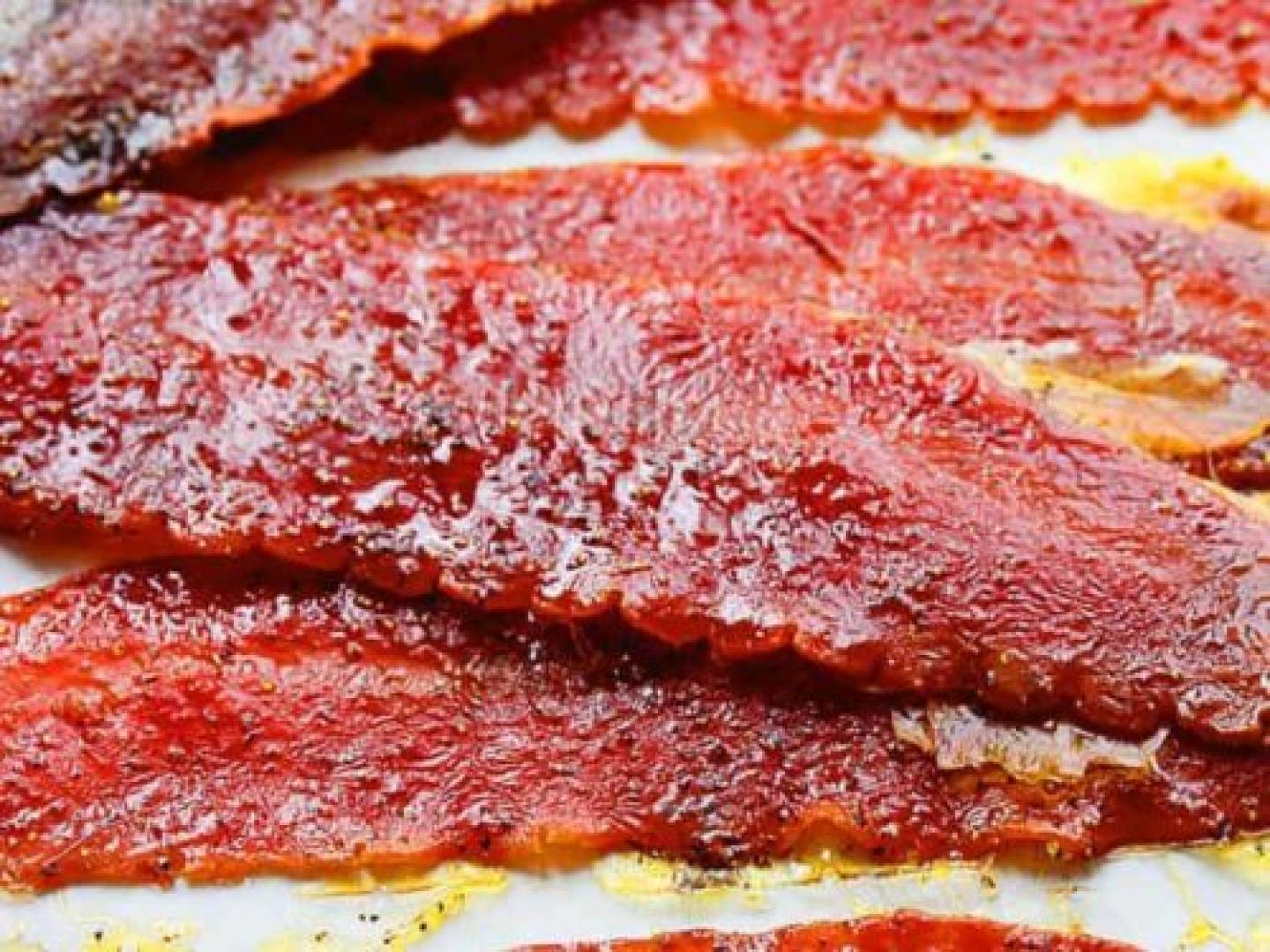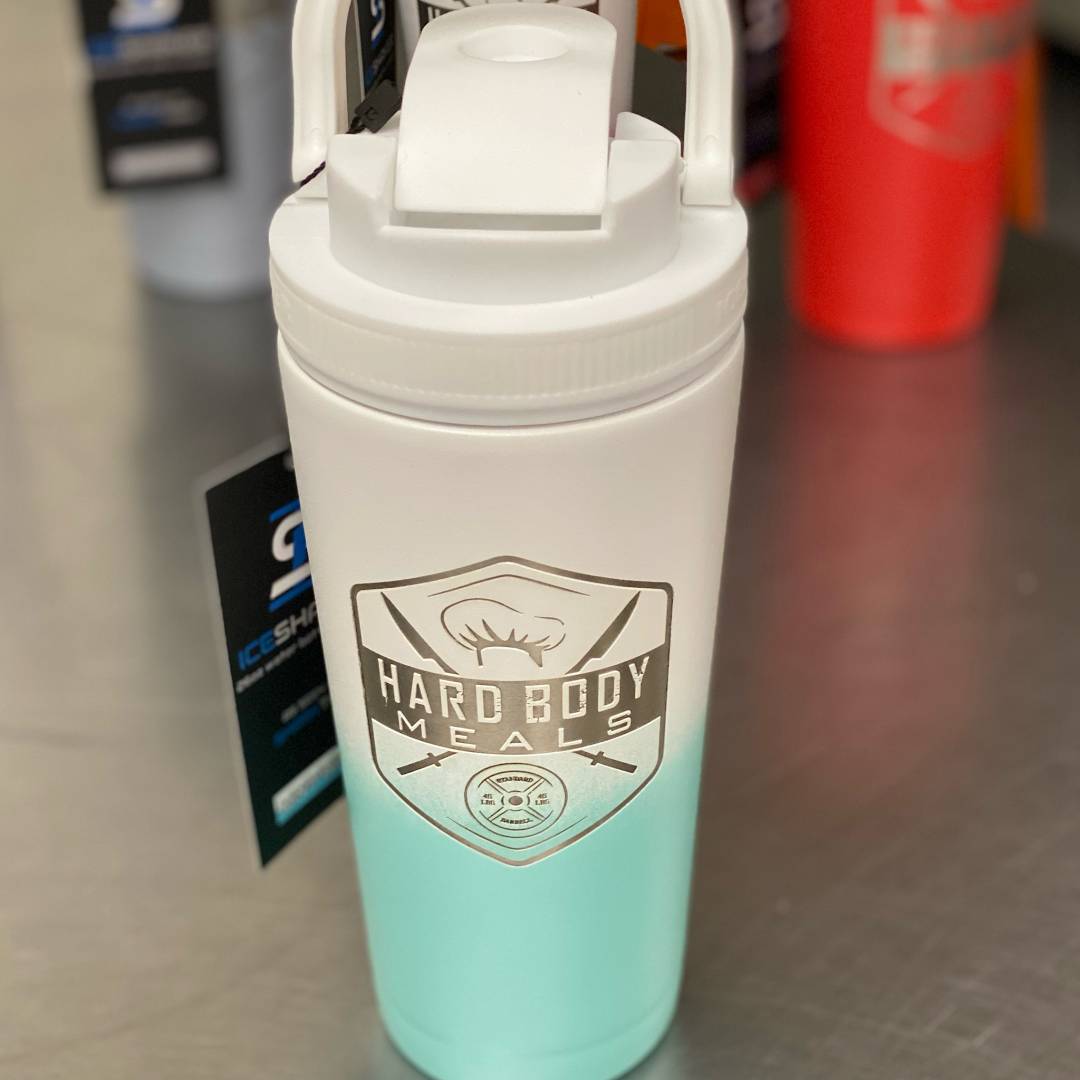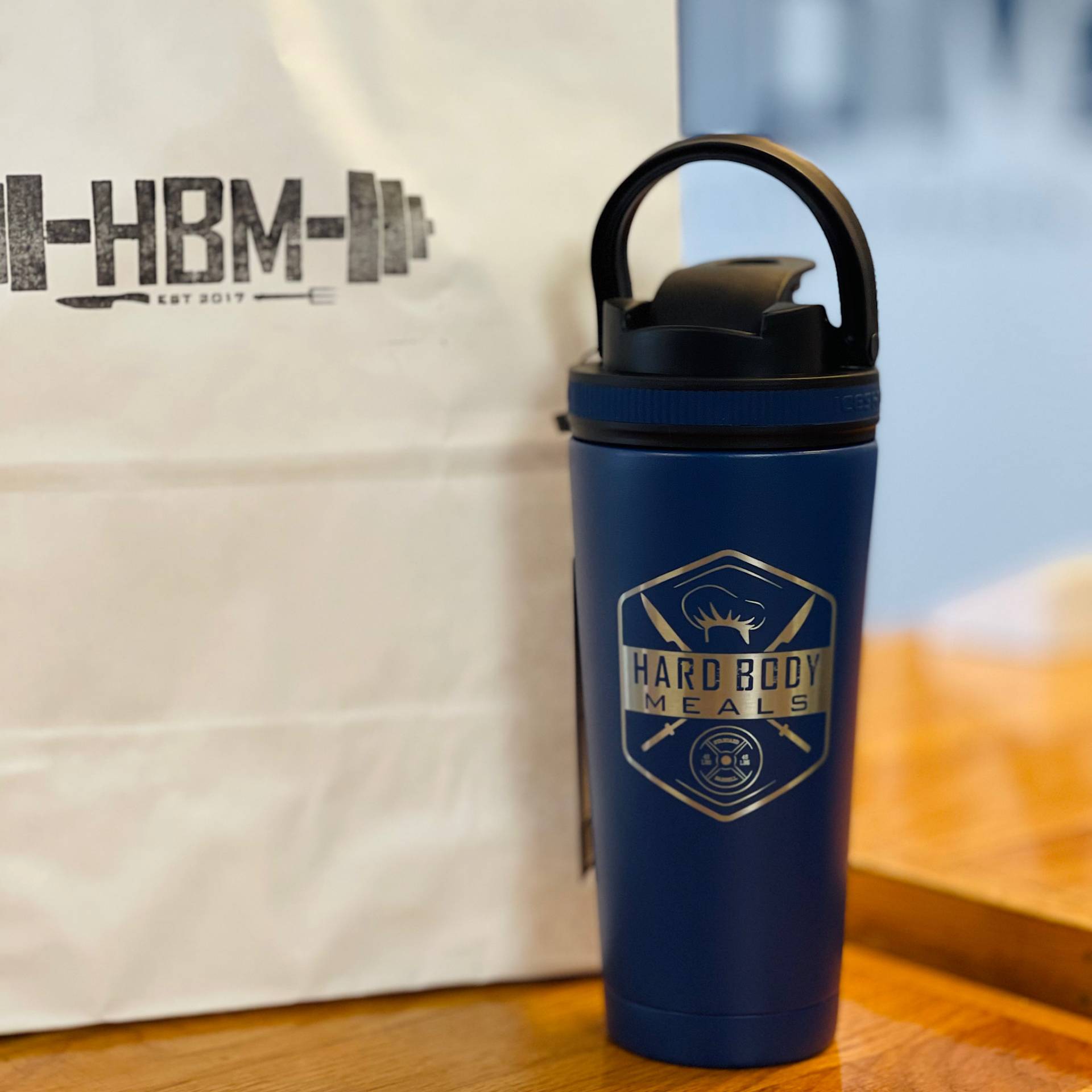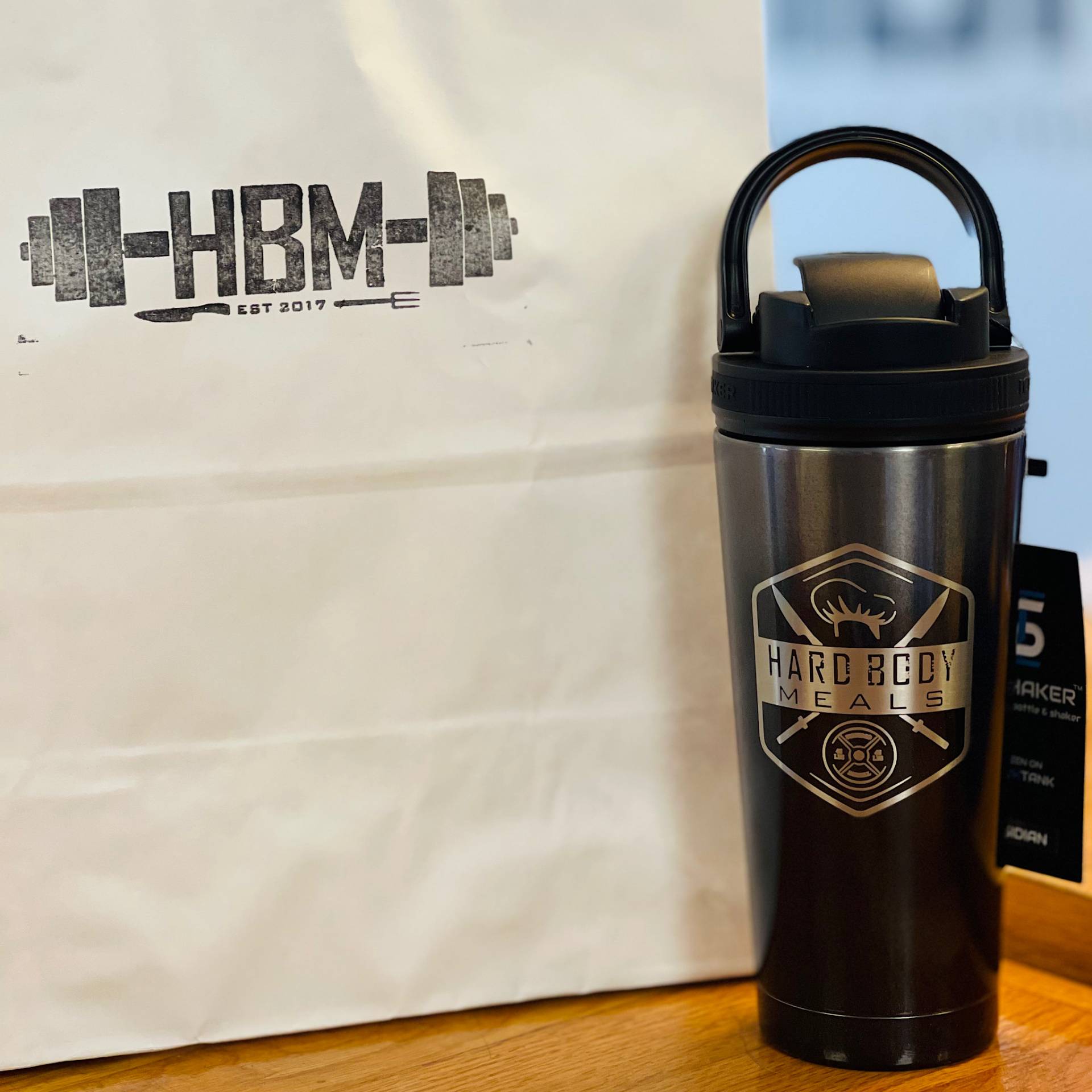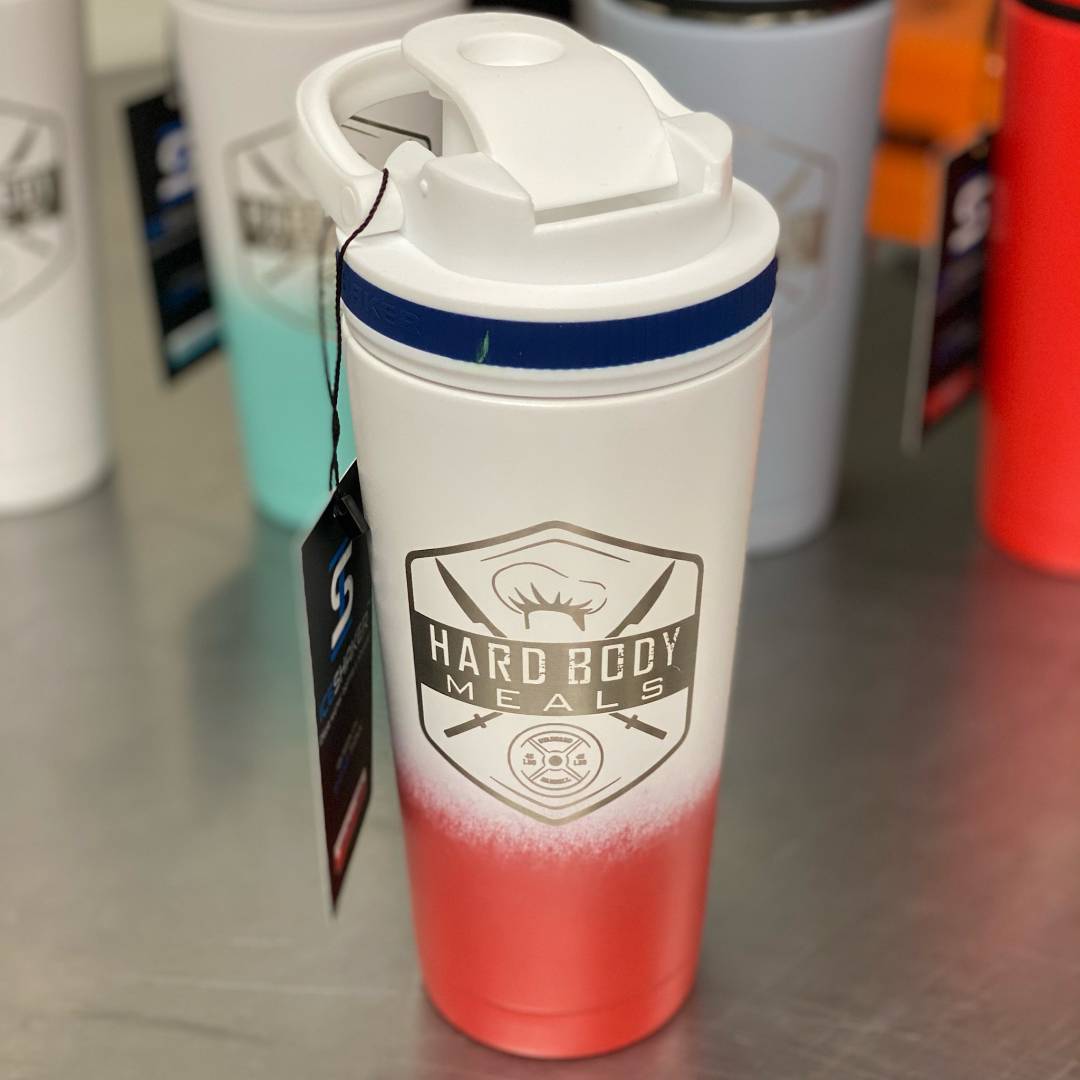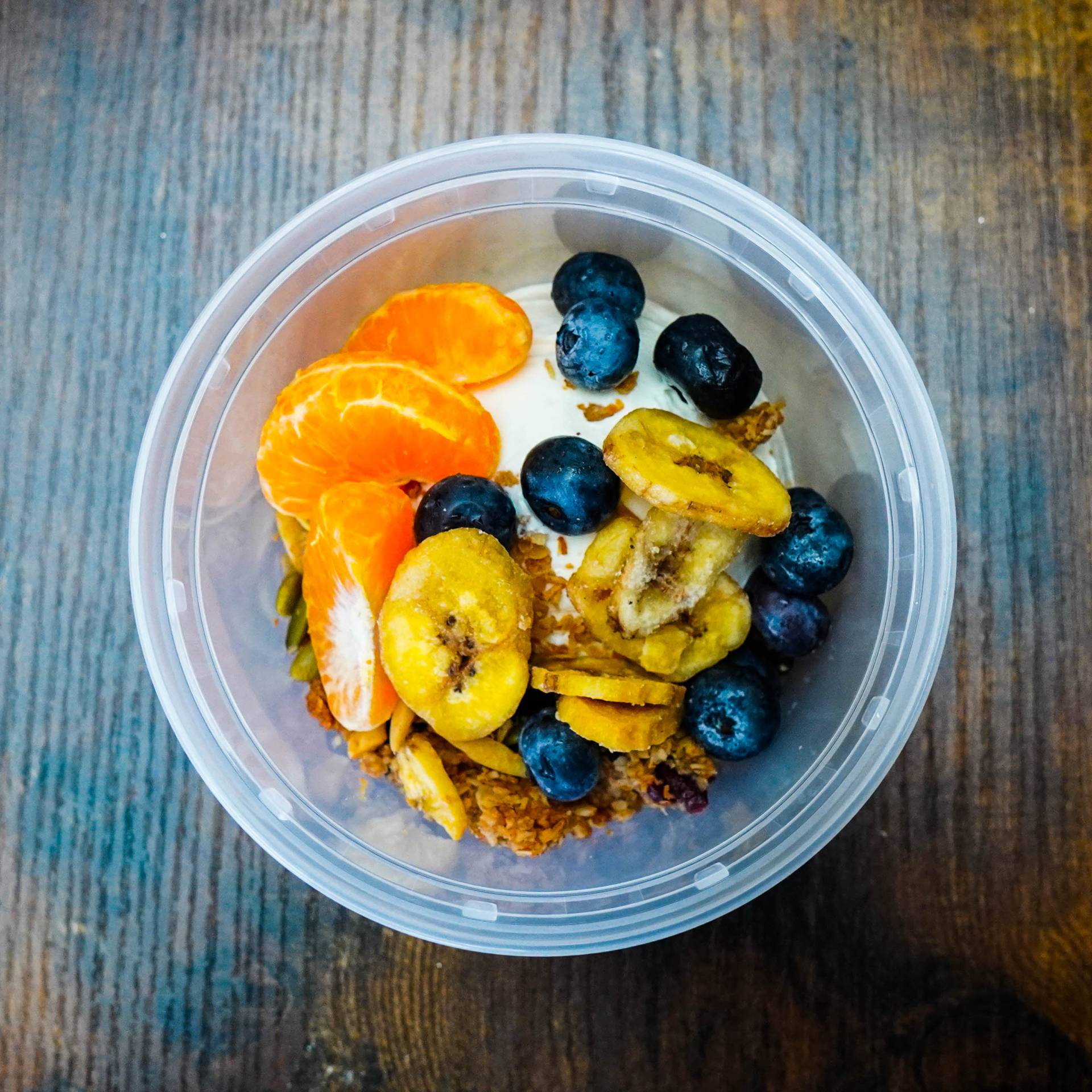 Immune Boosting Local Greek Yogurt Parfait
An immune system boosting, layered bowl of greek yogurt, sweetened with honey, blueberries, bananas, oranges, almonds, coconut, granola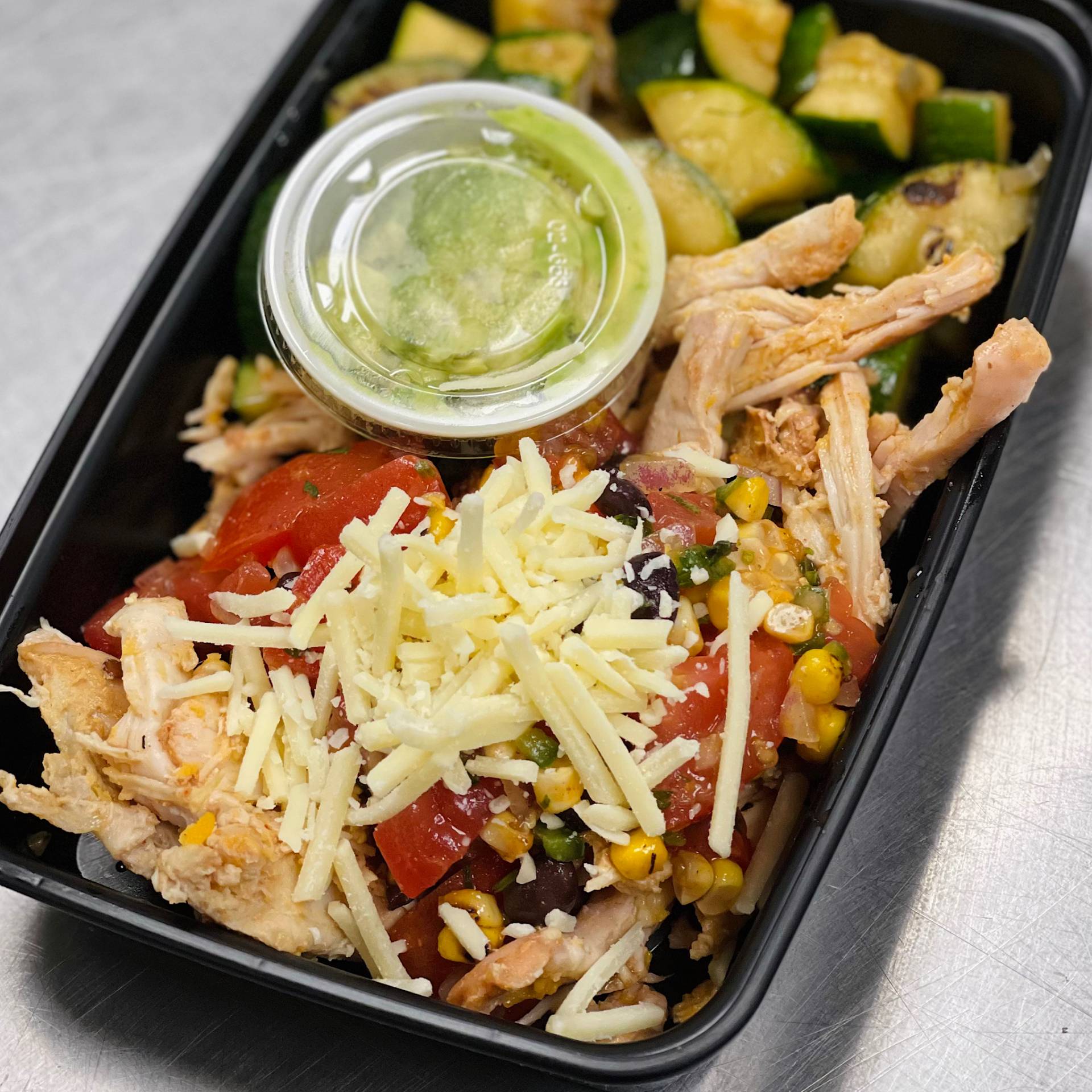 KETO Chicken
Tender braised chipotle chicken thighs, roasted corn, beans, pico de gallo, cheddar, avocado, served over grilled zucchini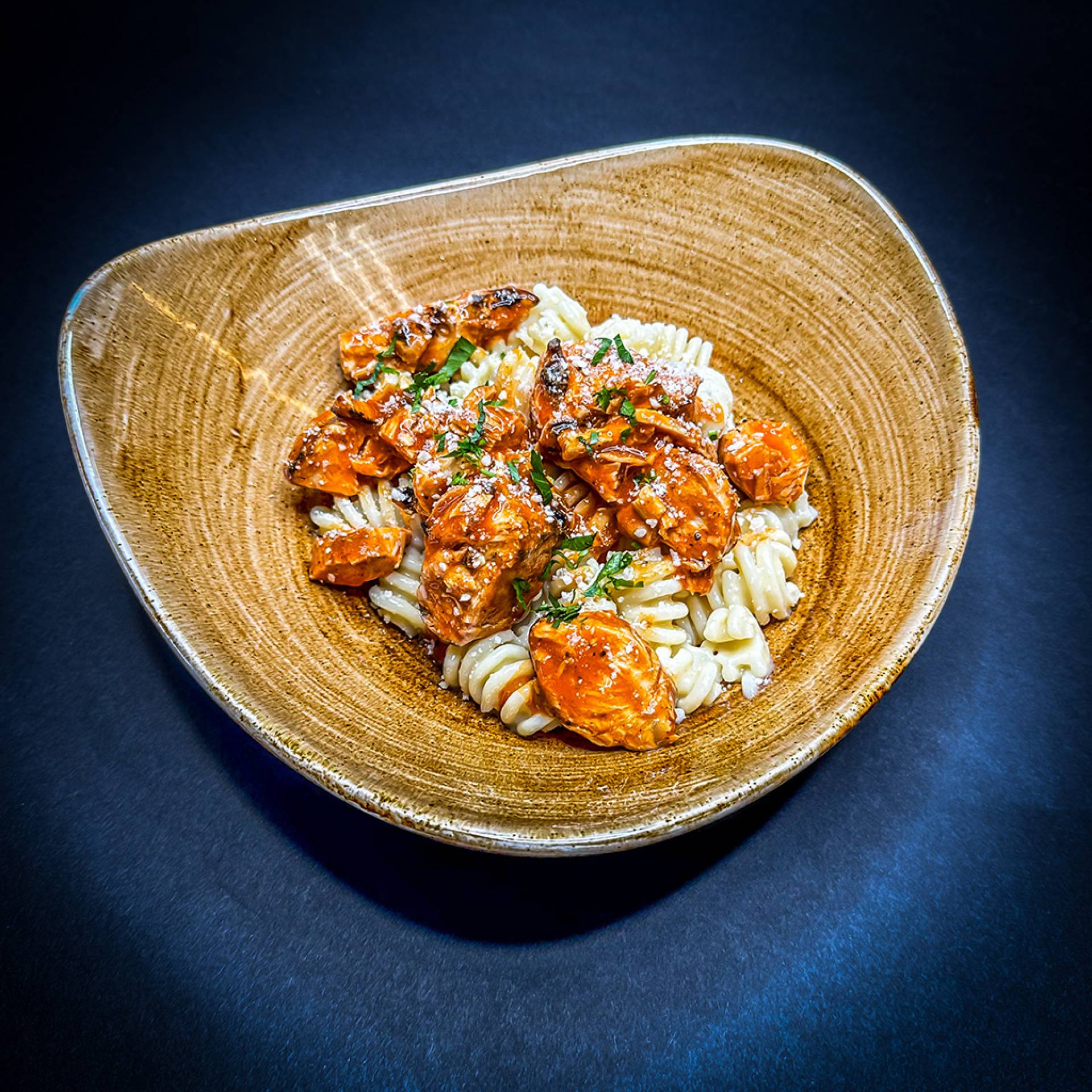 MAC & CHEESE BUFFALO GRILLED CHICKEN
Tender grilled chicken tossed in Franks Red Hot, Fresh Local Radiatore pasta, vermont cheddar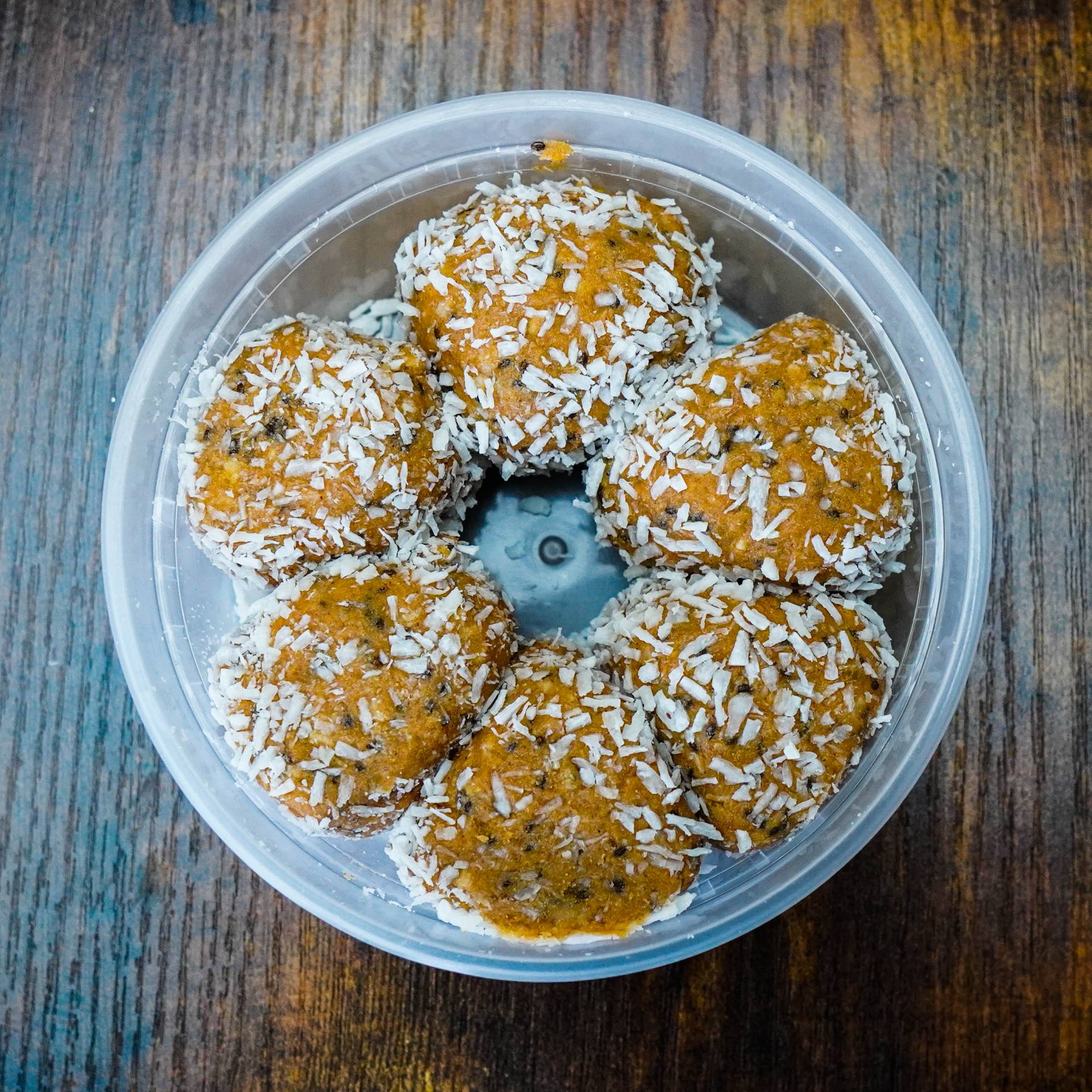 PEANUT BUTTER PROTEIN BALLS
Chocolate coconut peanut butter protein balls.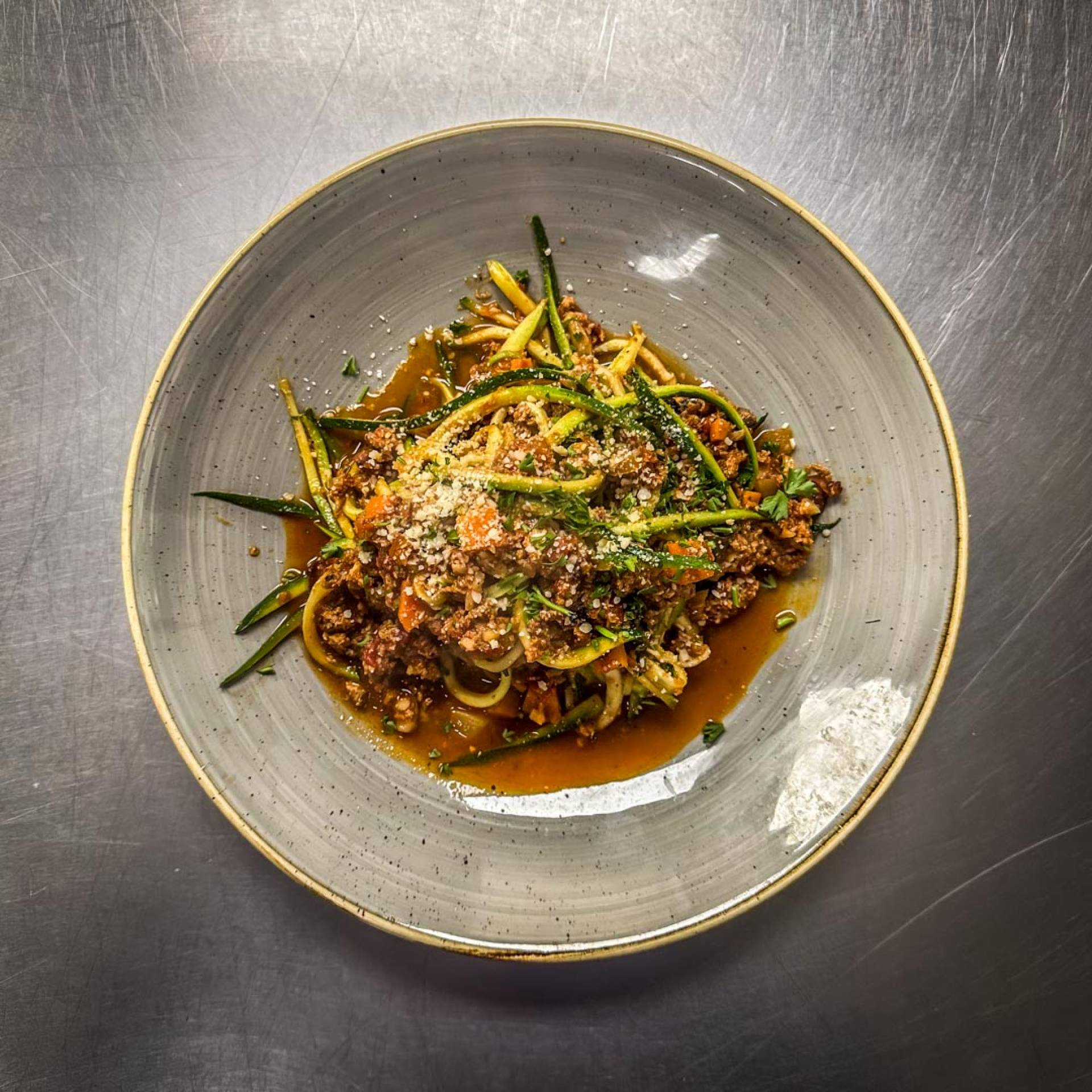 Penne Bolognese GF (BOWL OF GAINZ)
slow cooked bison, lean beef and turkey with a hint of smoked bacon, mushrooms, tomatoes and aromatics, served over gluten free penne pasta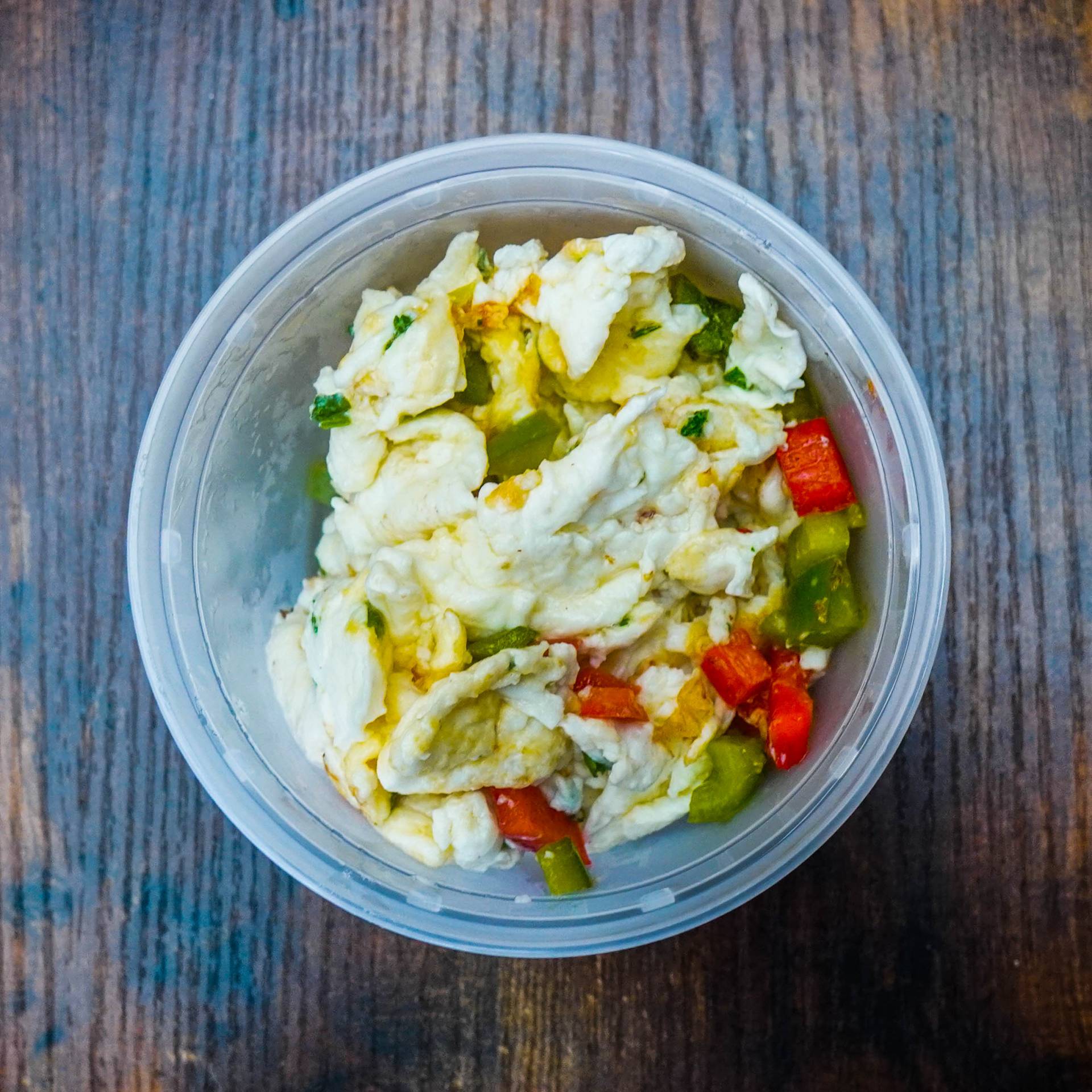 Scrambled Egg WHITES
Scrambled Egg whites with sautéed onions and peppers
Scrambled Eggs
Scrambled Eggs with sautéed onions and peppers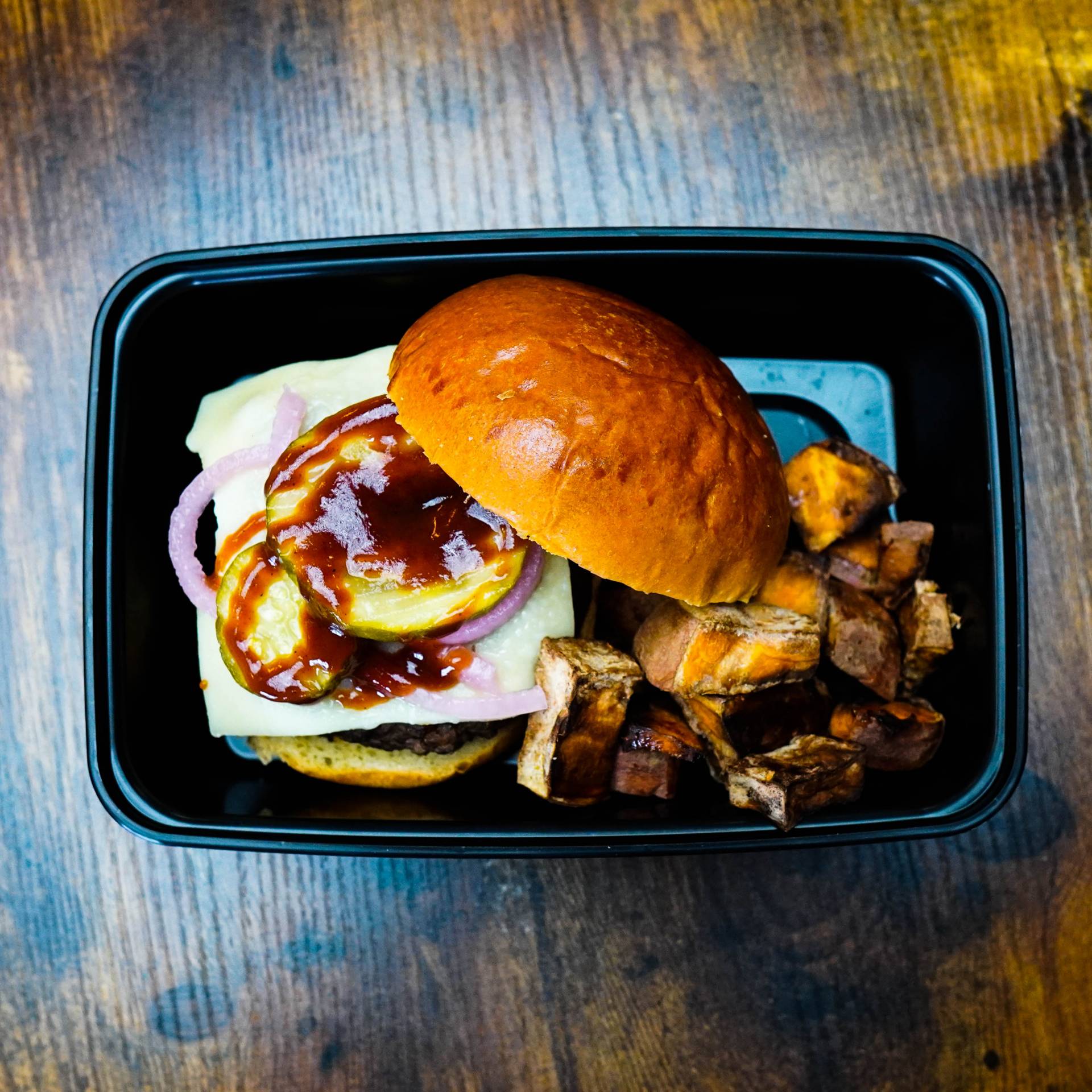 The Cheatburger
NO MACROS HERE - "CHEAT MEAL" Grilled angus patty, pepper jack cheese, sautéed mushrooms, barbecue sauce, house pickled onions and cucumbers served with baked sweet potato fries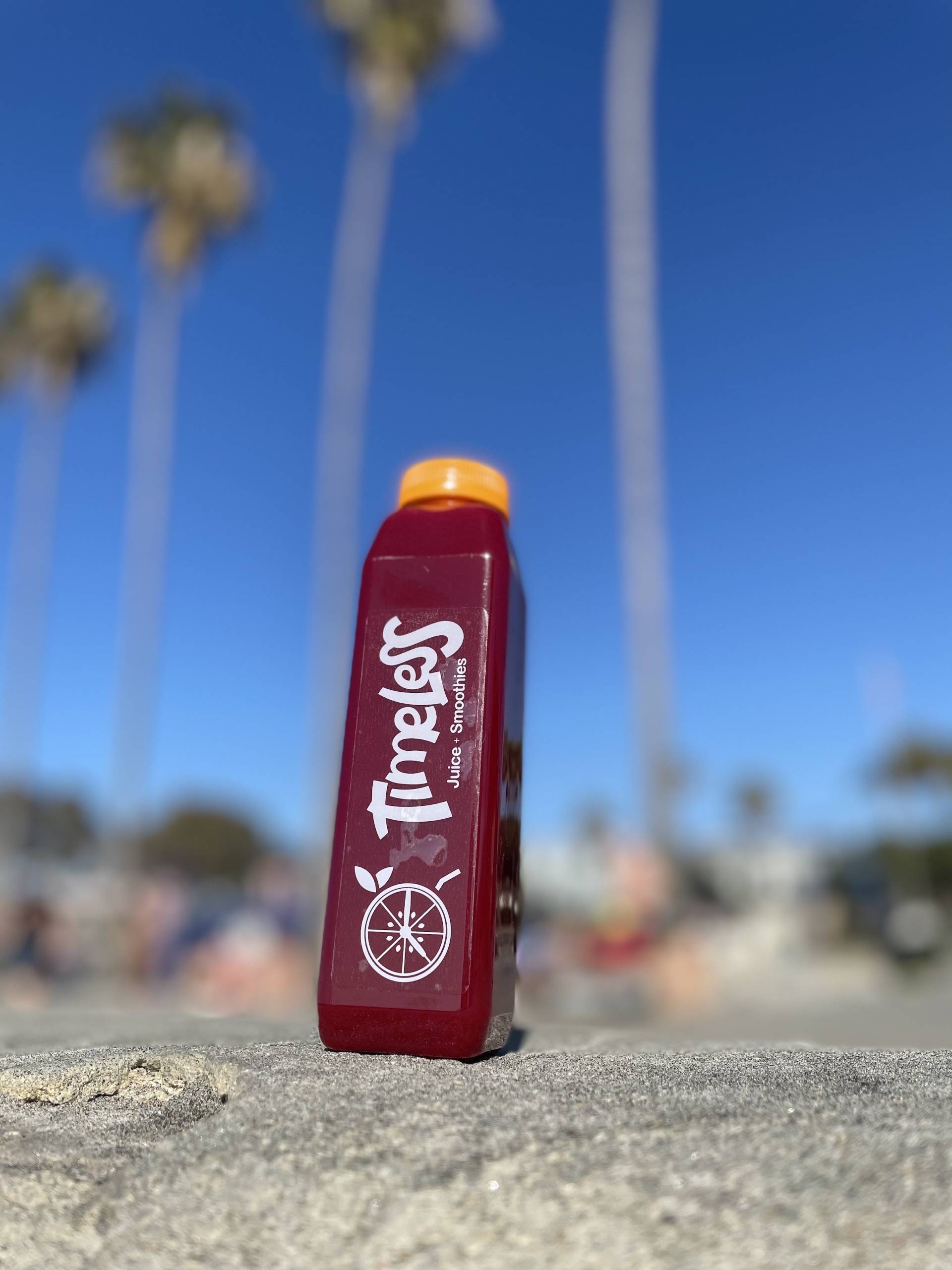 Timeless Juice - Beet It
Fresh local juice containing: Beets, ginger, lemons, red apples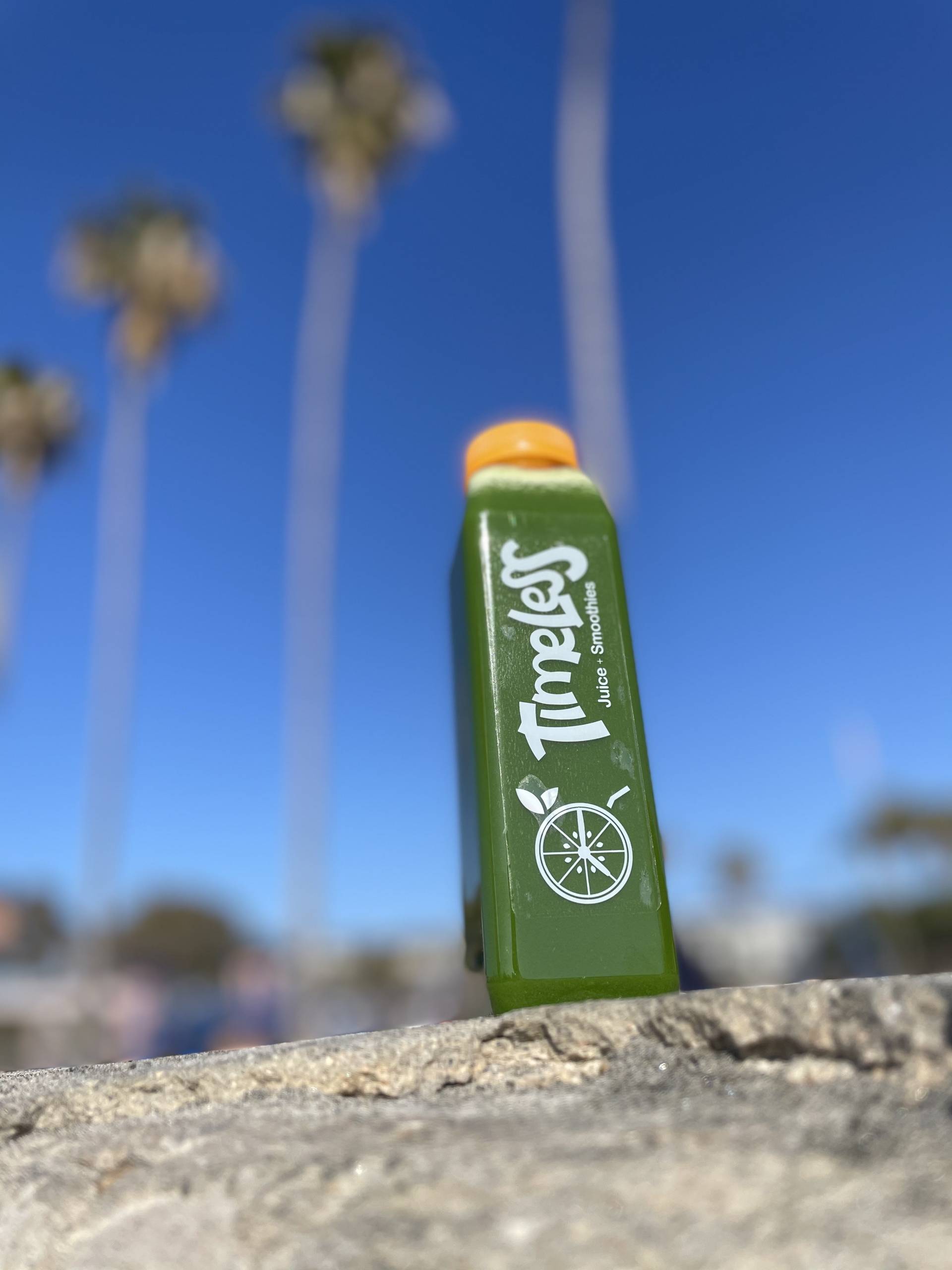 Timeless Juice - Green Monster
Fresh local juice containing: celery, cucumbers, ginger, green apples, grapes, kale, spinach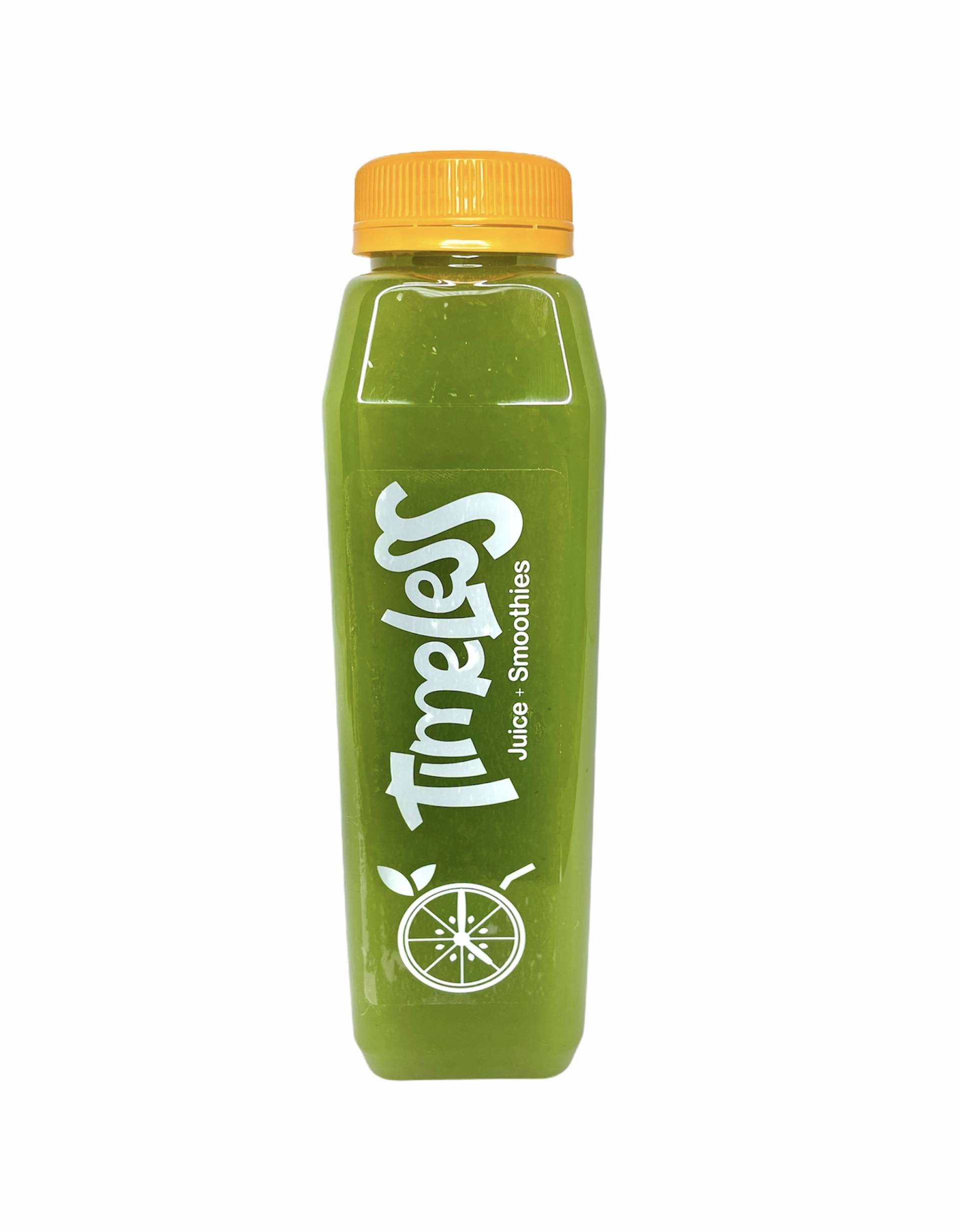 Timeless Juice - Pine Green
Fresh local juice containing: Aloe, coconut water, cucumbers, mint, pineapples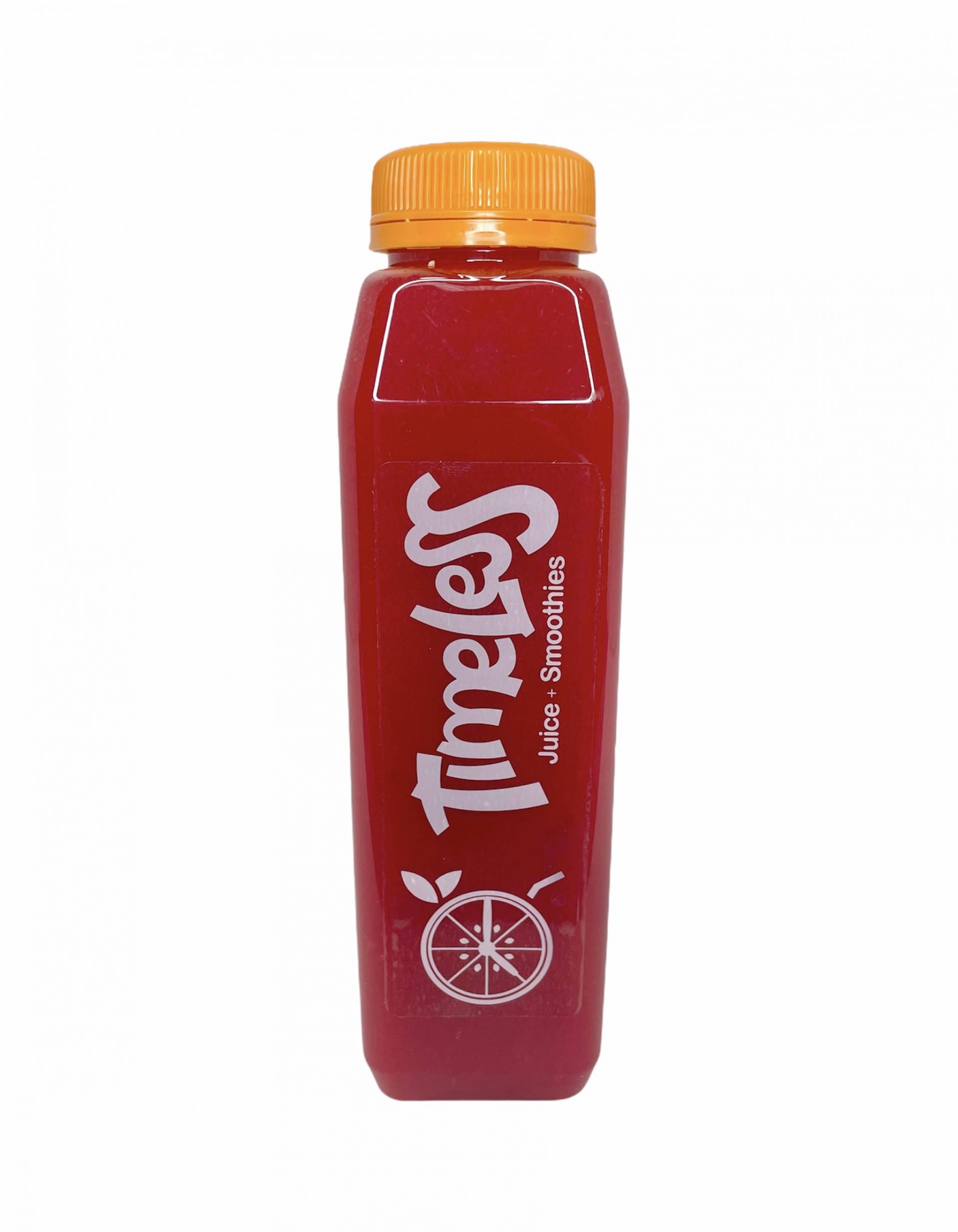 Timeless Juice - Sunset
Fresh local juice containing: beets, carrots, ginger, oranges, red grapes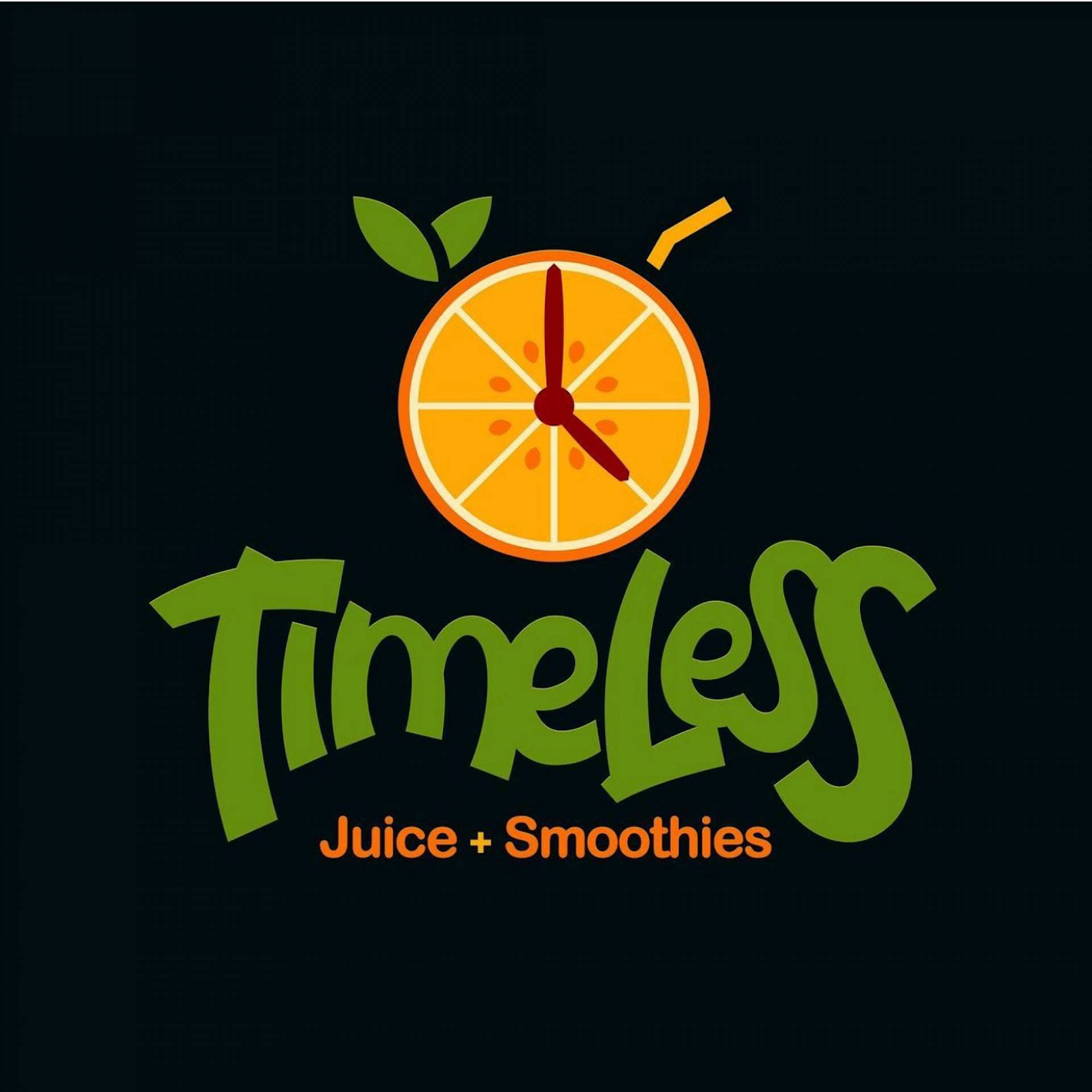 Timeless Wellness Shot - More Fire
Locally produced wellness shot containing: Lemons, turmeric, apple cider vinegar, cayenne pepper, honey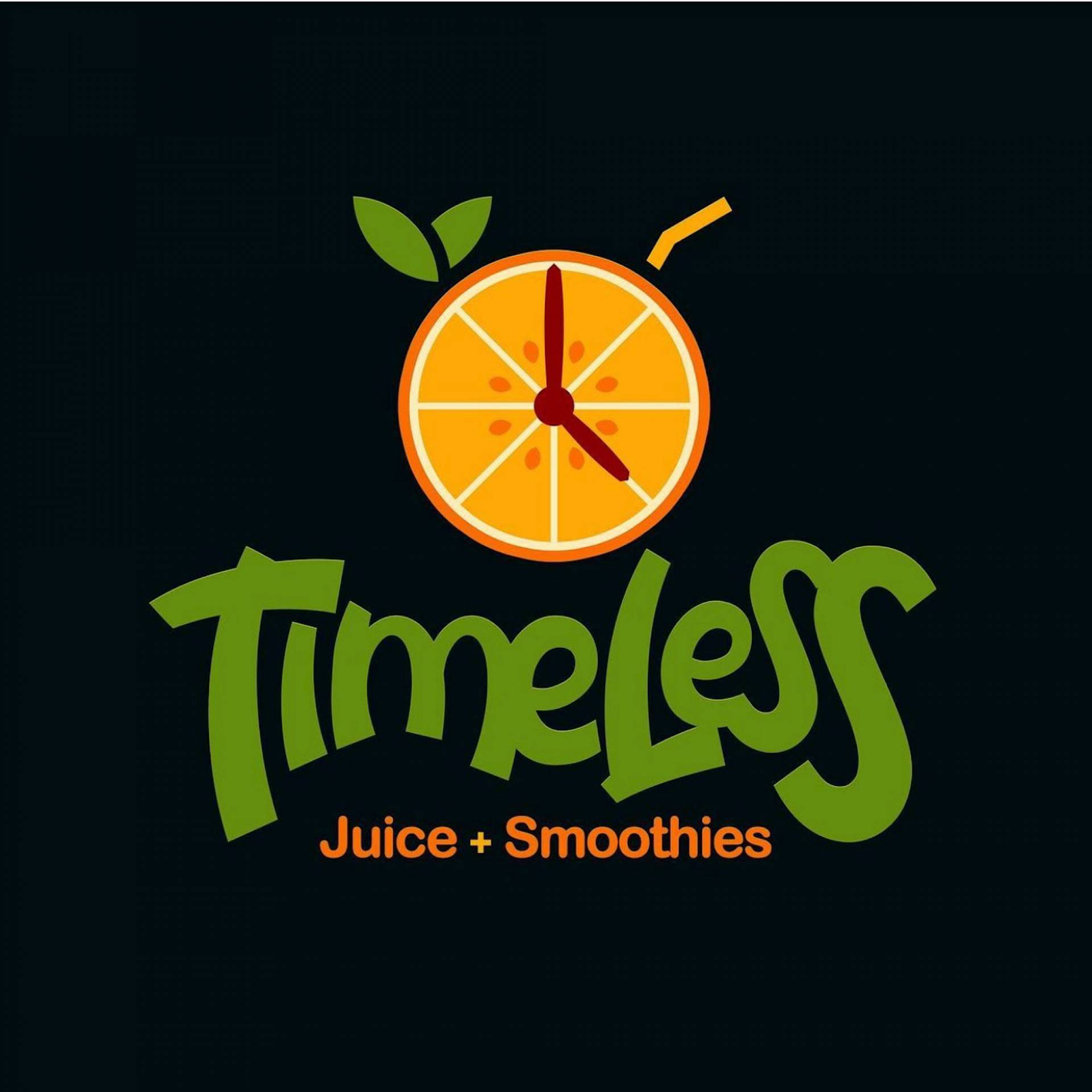 Timeless Wellness Shot - Zesty Lemon
Locally produced shot containing: lemons, ginger, red apples, cayenne pepper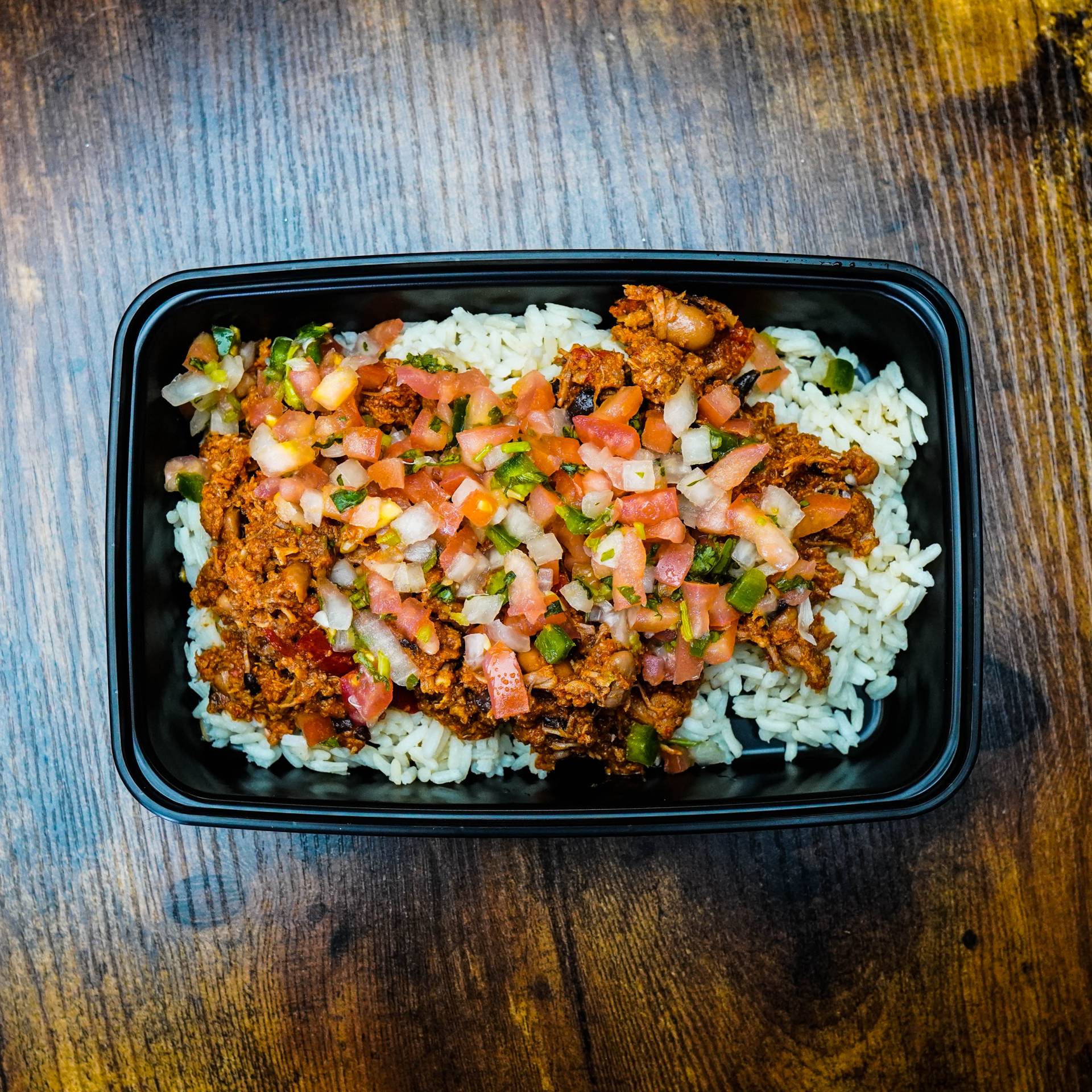 Turkey Chili
Lean Turkey Chili over steamed white rice.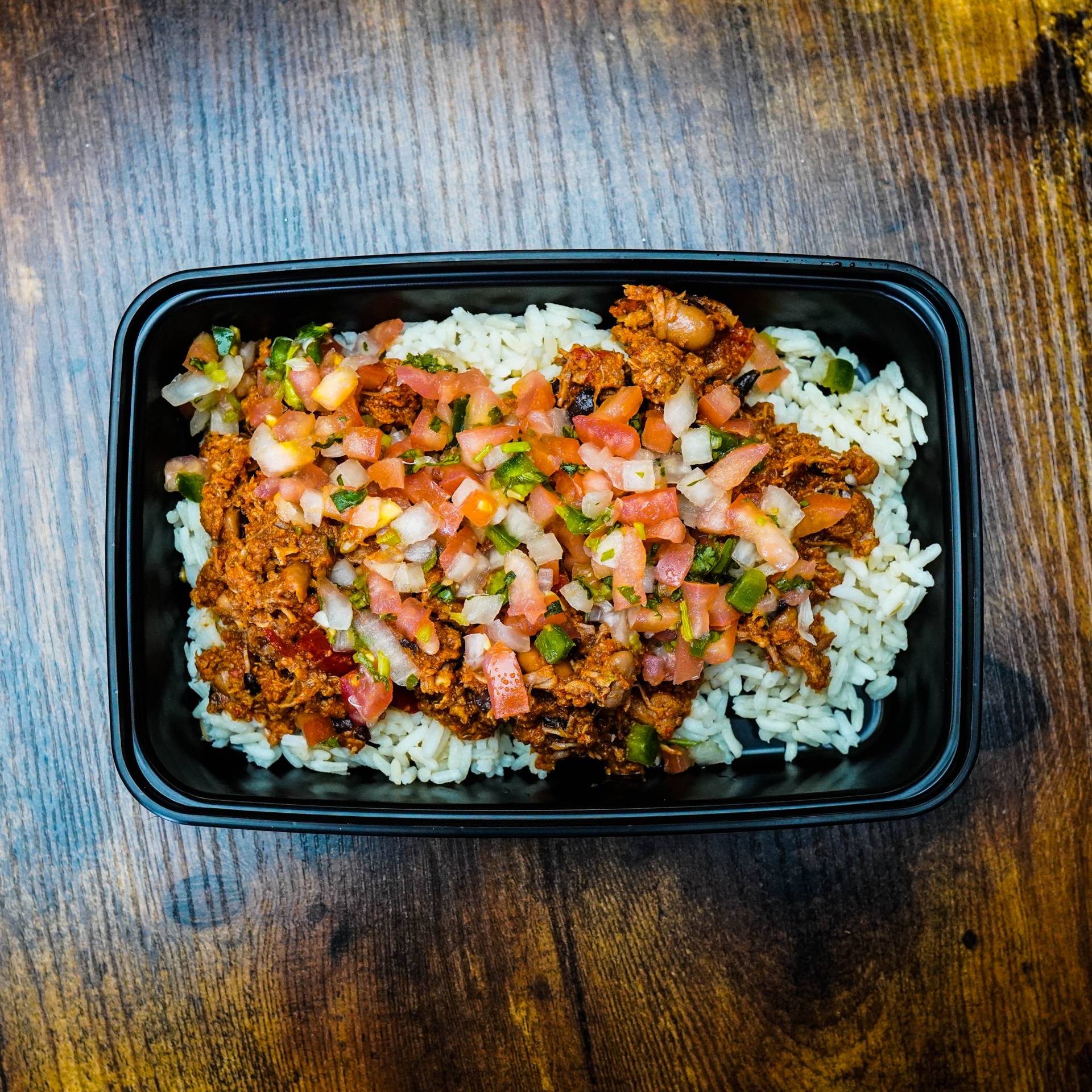 Turkey Chili LOW CARB
Your favorite HBM classic with way less CARBS!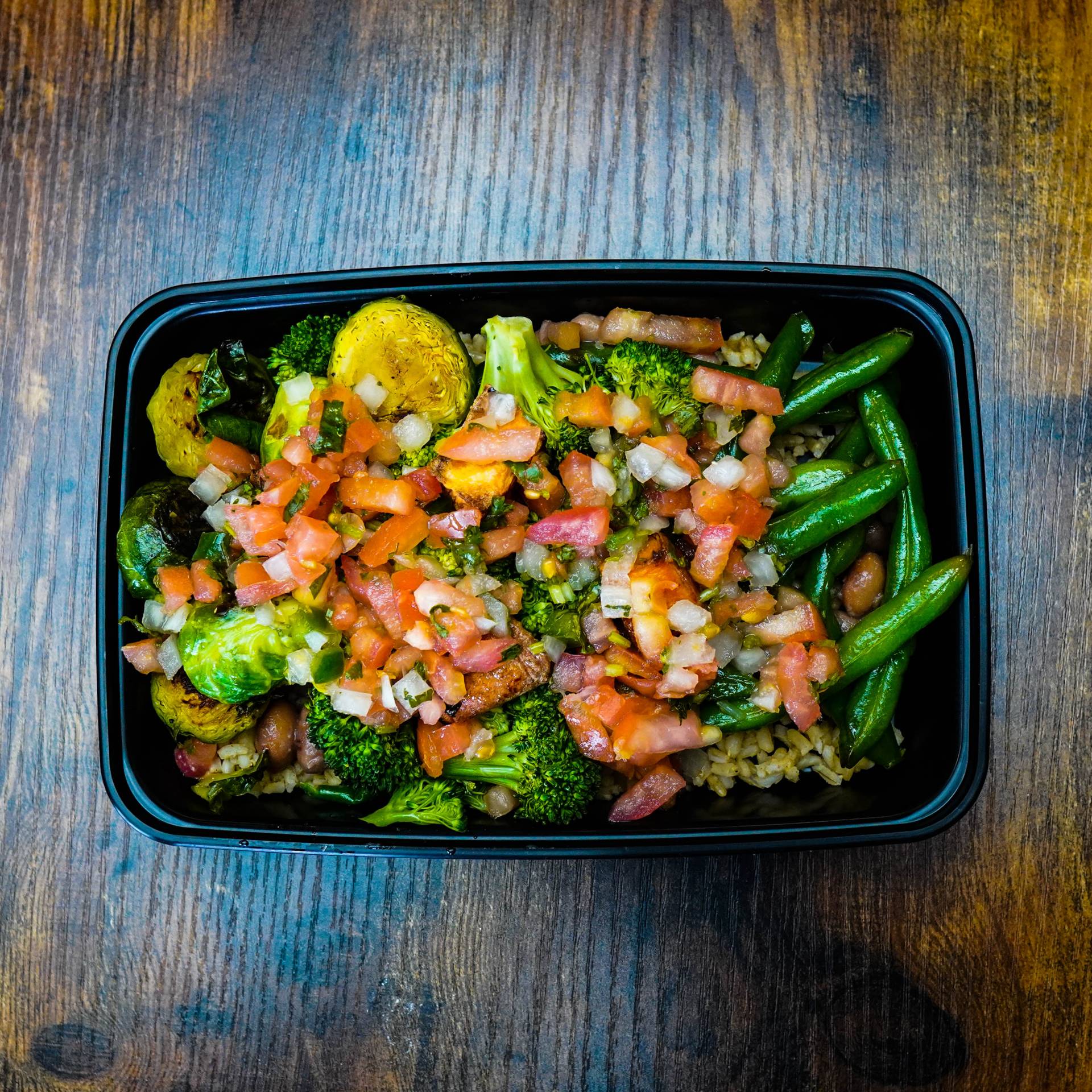 Vegan Burrito Bowl
Grilled vegetables served over brown rice and topped with pinto beans and fresh pico de gallo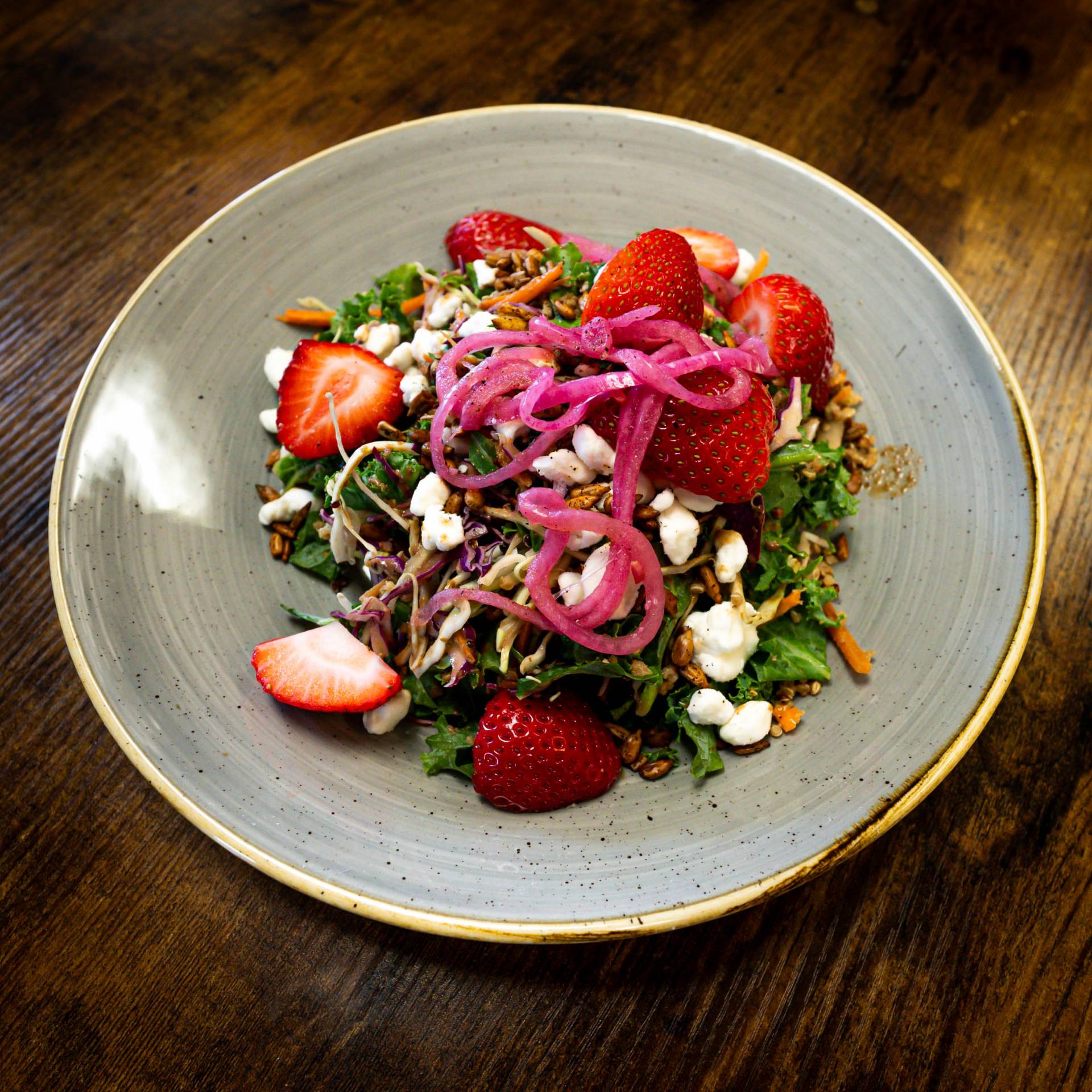 Vegan Power Bowl
A kale and quinoa salad with seasonal veggies and a citrus vinaigrette.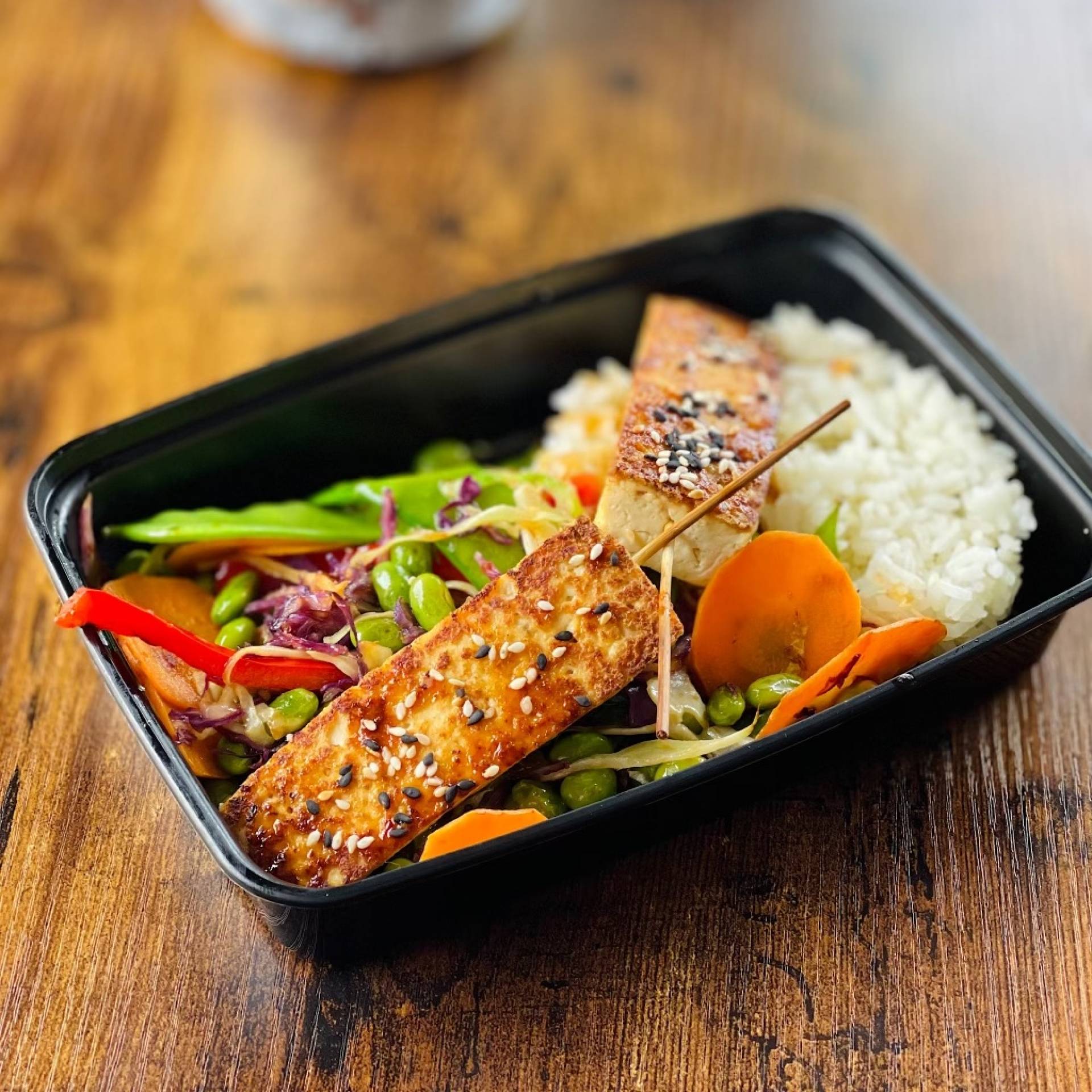 Vegan Sesame Teriyaki Tofu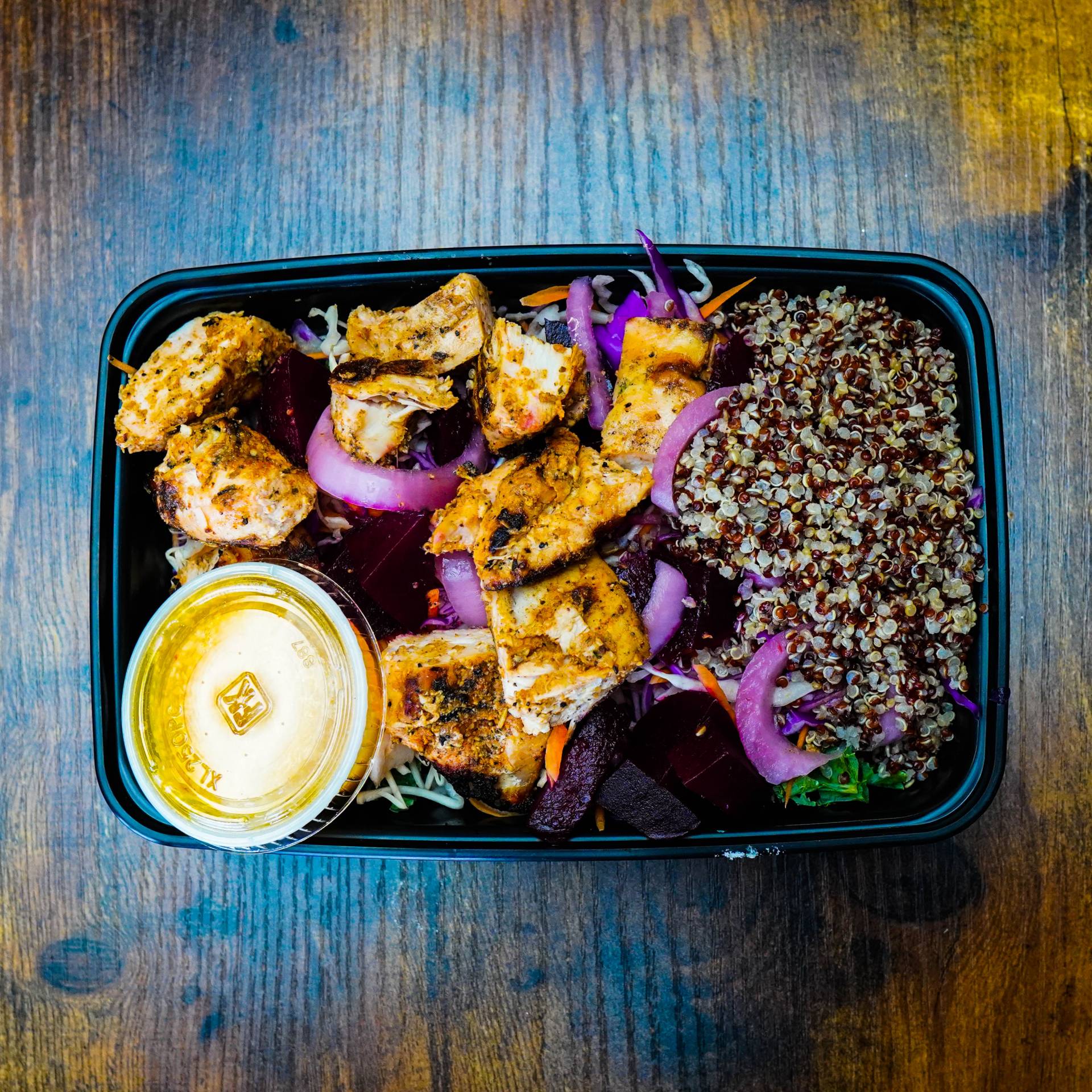 Veggie Power Bowl with Chicken
The Veggie Power Bowl with a protein add-on of 4oz Chicken. Dressed with a citrus vinaigrette.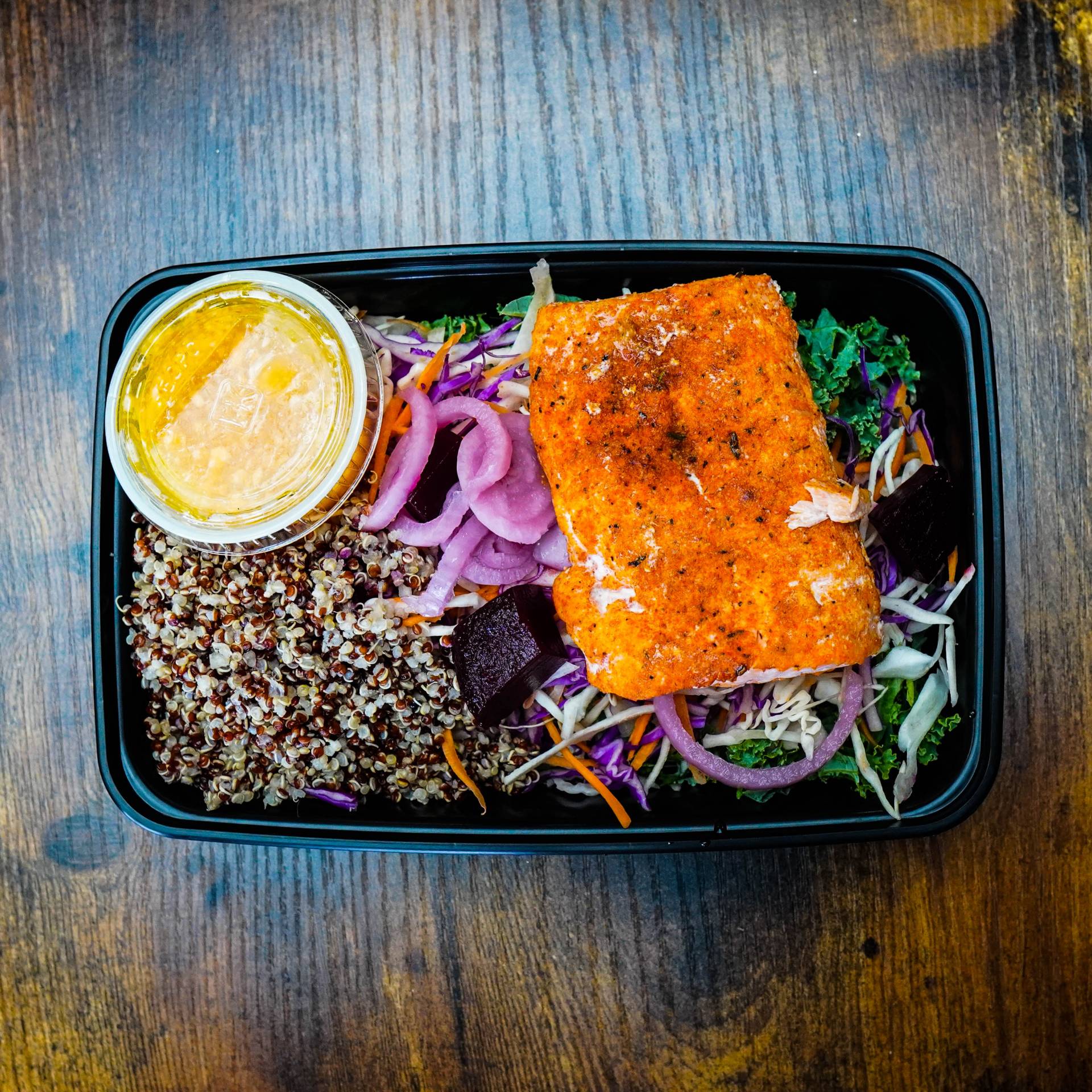 Veggie Power Bowl with Salmon
4oz Grilled Salmon with a kale and quinoa salad and seasonal veggies. Dressed with a citrus vinaigrette.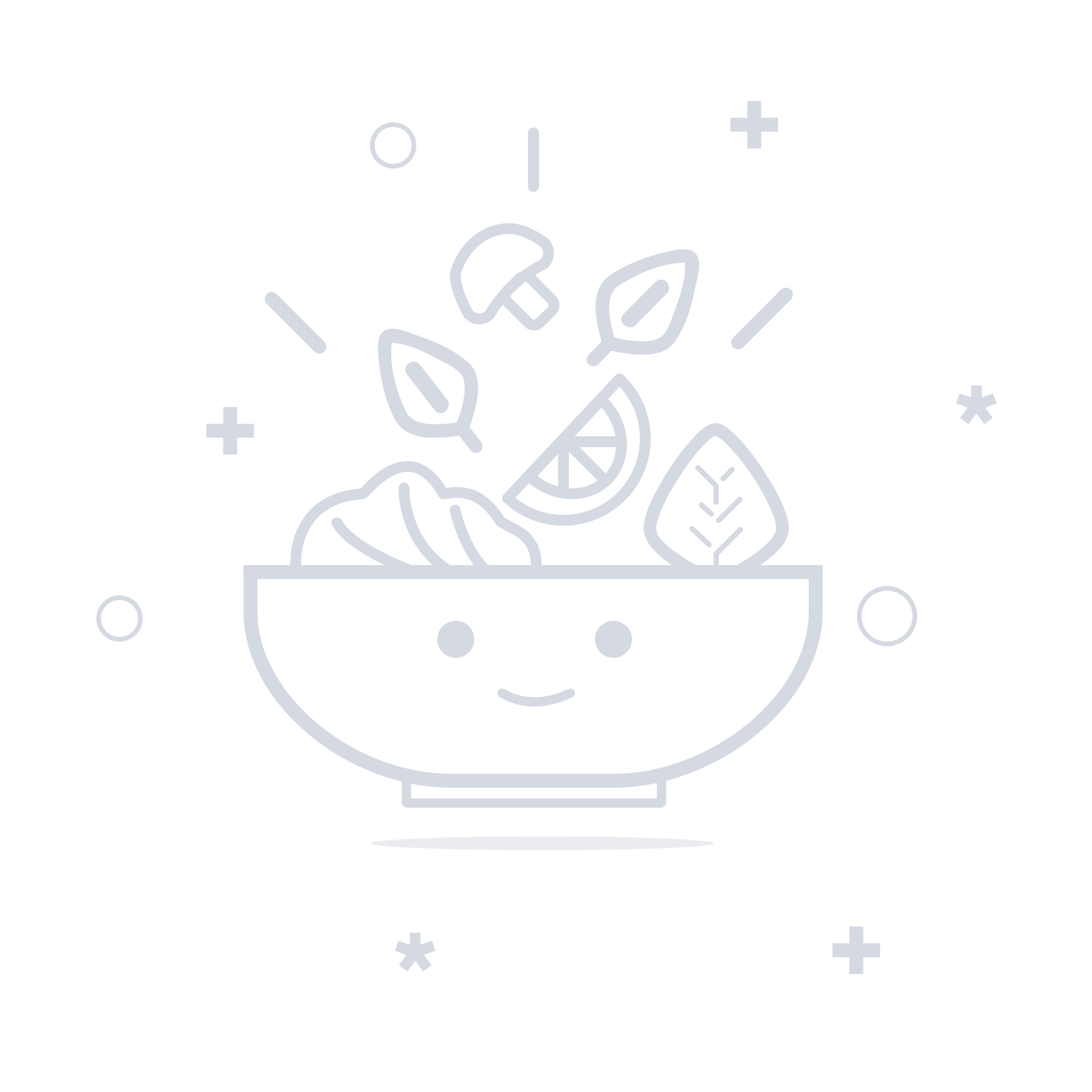 IMPORTANT NOTICE:
FOR ALL DELIVERY ORDERS
FROM OUR LOCATION:612 BROADWAY | HAVERHILL, MA
---
Local Deliveries: 5 MEAL MINIMUM PER ORDER
10+ miles: 10 MEAL MINIMUM PER ORDER
$.50 cents per mile(ALL Delivery Fees are due at CHECK OUT.)
---
Getting in shape has never been so easy
Meal programs for every lifestyle?
Whether you're here for weight loss, health reasons, or everyday convenience, we specialize in customizing your meals according to your specific dietary needs.
Ashley A.
I tried the food for the first time today and the food was delicious! It was fresh, well prepared and presented. The mix of flavors was so delicious. I was struggling with food. As a grad student I don't have time to cook and prepare my food every day to eat healthy food and to keep my diabetes under control. You made it so easy!
Greg C.
As a recent college graduate who's in the fitness industry my body composition and physique is more than just important to me- my job pretty much depends on it. When I first moved here and i was dealing with all of chaos a move causes I joined up because of the convenience they offer. When the chaos of the move dialed down and I began to think about my other nutritional options I realized that is easily the best- I don't have to cook, don't have to plan and most of all I don't have to prep. The customer service is second to none, the customization options are endless and the portions are just the right size.
Houston A.
When I signed up last month, I didn't disclose my weight or the fact that my diabetes was at a crisis point. I was astounded to hear that you could meet the terms of the restricted diet my Naturopath prescribed for me. One month in, I'm down 13 lbs and fighting on. Given my family history, I expect to be with you the rest of my days.
Send someone a Gift Card
Sending a gift has never been so easy. Simply fill out our form, select the amount you wish to give, and your friend will receive a gift card so they can buy their Meals.
Buy Now